A video by The Times of India shows how students in Bihar appearing for their Class 10 Board examinations had 'help' from their friends and family. Shocking footage of parents climbing high walls at examination centres to pass 'chits' to their children has emerged. Authorities have, thus far, been unsuccessful in curbing the malpractice because of the large number of people involved in the wall-scaling.
State education minister told The Times of India , "T he Government is helpless to stop the dishonest practices unless parents and students cooperate for the same."
The Boards are always a bit of a family affair. Each member has their own pre-designated role to play when it's time for this high-pressure, high-stakes examination. Dad ensures, with surprising persistence, that your syllabus is complete. You run to mum for emotional support when Maths rears its ugly head. Trust your grandparents to bring out the dahi-shakkar and make sure that you go in for a paper with an abundance of blessings.
But this might be pushing things too far.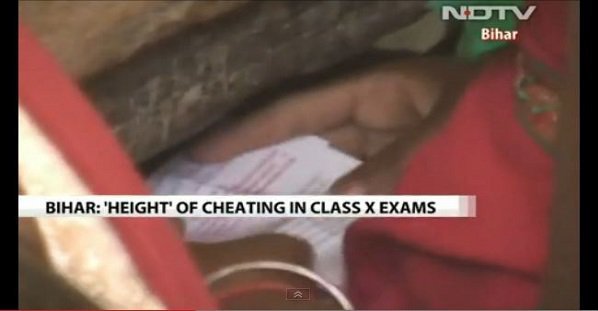 Especially, considering there are strict no-cheating rules that govern these exams. For instance, Bihar's anti-cheating law includes provisions for filing an FIR and even arresting wrong-doers. Of the 14.26 lakh students appearing for the Bihar Board examinations this year, 1,000 have been expelled for cheating.
Seems like a rather silly risk to take, doesn't it?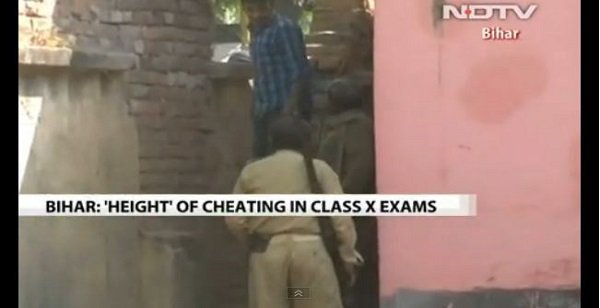 Dear parents, please do better than this. Rather than equipping your children with the skills necessary to make it in the big, bad world, you're crippling them. What will they do when there is no wall to climb and no chits for you to pass?
This video throws open, once again, the debate about whether these examinations put undue pressure on parents and children. The struggle to make it to a good college, amidst soaring cut-offs and a handful of seats, continues to give many a sleepless nights to students.
At times like this, we have to ask – has our education system failed us completely?