Like every woman commuting alone, Priyanka Gusain also has a safety routine for her late-night cab rides. And, like every woman, she tends to let her guard down a little when she takes a cab during the day. During one such ride, she noticed her Ola cabbie secretly making videos of her while driving on busy Delhi roads.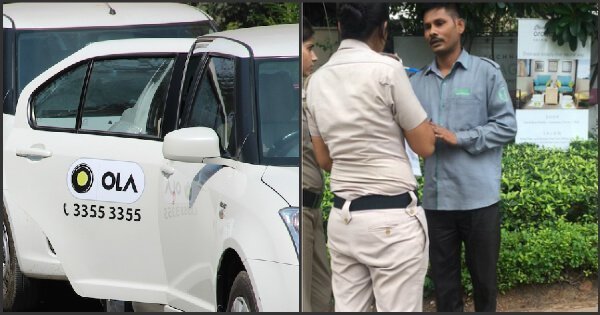 Priyanka told Vagabomb, "I'd taken a cab from my home towards Dhaula Kuan on a Sunday afternoon. It was a hot day and I was sitting in the middle of the back seat to get more AC access. I didn't have any conversation with the driver but after a while I started feeling uneasy because he was staring and gave off a very bad vibe. Women always figure out when someone's staring at the them. While still on the phone, I started noticing his movements and that's when I saw he had his phone in his hand and his front camera was switched on. I could see myself over his shoulders and I instantly freaked out."
Priyanka instantly raised an alarm and demanded the driver to show her his phone. "He started off by saying that he's saving photos of his daughter, and tried to hide his phone. I said if that's the case then he has nothing to hide. The scarier bit was that he kept driving. I saw his phone and figured that he'd been recording me for over three minutes, and I was clearly visible and audible in the clip. I don't even want to know what he was going to do with those clips. When I screamed at him, he tried touching my feet and apologizing, 'Galti ho gayi, pehli baar kara hai, dobara nahi karunga.'"

Priyanka called her friends and redirected the cab towards a busier spot. She dialed 100 and a team from the Delhi Police, which included female officers, turned up in response. They were then taken to a nearby police station, where an FIR was registered. But senior officials (she's not sure of the designation) told her that while they had arrested the driver, he would be released within a day or two because this was a bailable offence.
Priyanka told us, "I don't understand the law and I didn't know the details of the sections, etc. What pissed me off were the official's comments. He saw the video, and said, 'par madam iss mein aisa kuch dikh toh nahi raha hai.' So, we're supposed to wait for a bigger problem to happen? They told me to complain to the Ola officials, and I left from the station because there was nothing more I could do at the time."
Priyanka complained about the driver as soon as the trip was over, and entered a long description of the incident along with the 'Driver made me feel unsafe' option on the app. All she got was an automated response. She clarifies, "I was not in town for a week after the incident, so I can't comment on Ola's action, or the lack of it. I didn't hear from them so I finally posted a complaint on their official Facebook page a week after the incident."
This is her post: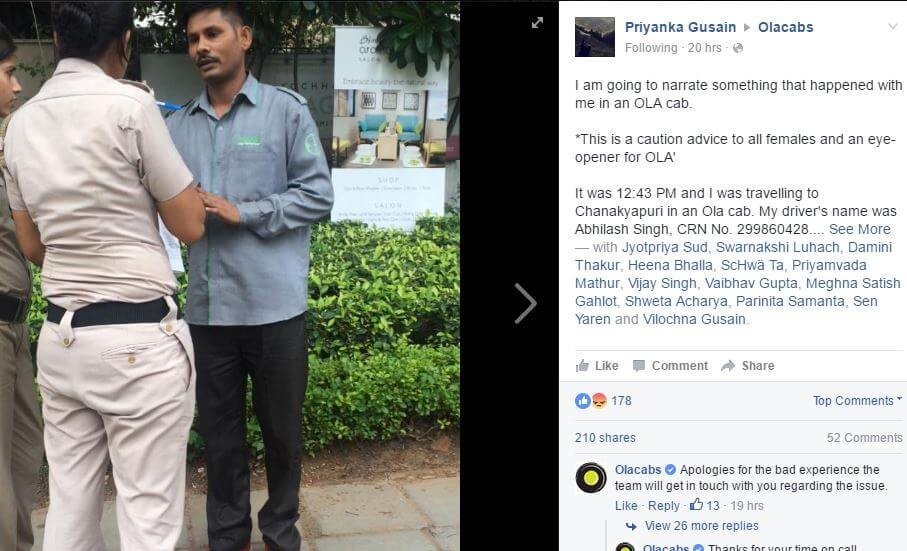 As soon as this went up, Ola officials got in touch with Priyanka. She told us, "The Ola employee apologized and told me that the driver's Ola connection had been jammed and he won't be driving for them anymore. I asked them why it took them a week to take action and why was he allowed to drive for the week. Supposedly, they didn't get my complaint and rating. I don't know whether to trust them or not, but what choice do I have? They told me about the SOS option on their app and how that instantly connects a passenger to the company. In all probability, the driver might still be driving for Uber, and that just scares me. I wanted to complain and cause some damage so that this driver gets scared of the consequences of his actions. If I wouldn't have, a video could have turned into much more later."
If we start making a list of all the ridiculous things cab drivers have gotten away with doing, it'll be beyond the scope of this article. Regardless, we're still dependent on them because of the lack of safe public transport in the country. Perhaps the only solution for now is to add another thing to your safety routine – know your legal rights and exercise them should you ever encounter a similar incident. 
For more of this author's work, click here; to follow them on Twitter, click here.