It was a heartening sign to behold. In parts of Chennai's flooded areas sailed blue boats emblazoned with cab aggregator Ola's logo. The boatmen on them also wore the logo on raincoats as they rescued people trapped in areas like Velachery that have been cut off from the city thanks to the incessant rains that have pounded the city for days now.
The tweets of joy of those who spotted the boats was understandable:
So how did Ola manage this? Turns out they got in touch with a Chennai-based private company that specialises in deep sea fishing and sailing. Santosh Jagdish, a director at Blue Waters, said they were looking for some way to aid with the flood relief and that Ola had come on board to assist them. Once they got the financial support of Ola, Jagdish said they tied up with fishermen to get their boats on to trucks and into the city where they were deployed to rescue people. Jagdish said that 23 people are involved in the operations that will continue till Thursday and beyond, if required.
"Ola is co-ordinating with the fire brigade and government officials on where rescue operations are needed," Shankar said.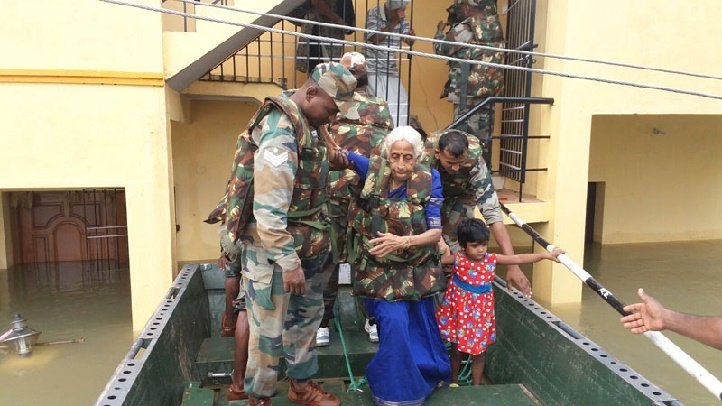 Army rescue operations in Chennai. Source: PIB
The boats have been rescuing people when needed and also providing provisions like milk and biscuits to those stranded, he said.
Contrast this with what the armed forces have done so far: Two columns of the Army were deployed in the Tambaram and Mudichur areas of Chennai where they have rescued approximately 882 civilians by Tuesday evening. They've distributed first aid and medical assistance to about 200. The Indian Navy and Coast Guard were also involved in the operations. Here's what the defence spokesperson tweeted:
And this is excluding what the state government employees have been doing before the armed forces stepped in. There's an obvious point that the armed forces, firemen and police officials ( like this noteworthy constable ) braving the rains are required to do so. That it is finally their duty.
But let that not take away from the scale of the rescue operations that have been mounted. And the fact that the defence forces have had to do this time and again, at times putting their lives at risk. Remember Uttarakhand in 2013 , where 20 died in a chopper crash because they weren't willing to say no to setting off for rescue operations despite not having favourable conditions?
And then there are the faceless people who work out of the goodness of their heart to help those they see in need. Like this Facebook page 'Chennai Rain Relief 2015' where people with an intent to help are coming together to provide food to those most affected.
Make no mistake, every effort counts. From the free food to the boat, to the fisherman who's sailing on an Ola-branded boat. But don't let that branded boat be the icon of the sheer human effort that has gone into lending a helping hand to every person who's needed it in Chennai and Tamil Nadu.
(Featured image source: Ola Cabs Twitter handle)