People living in Delhi and the National Capital Region may have to again face a harrowing time commuting as drivers of app-based taxi aggregators like Ola and Uber have announced a one-day strike on Tuesday. 
Sarvodaya Driver Association of Delhi (SDAS), the taxi union which has close to 1.5 lakh Ola, Uber drivers affiliated to it, will protest against the exploitative practices followed by these companies. The protest will be a continuation of the one which it organised in February at Jantar Mantar.  
"The protest march will begin at 11 am from Manju ka Tila and will reach Chief Minister Arvind Kejriwal's residence. Our demands are still the same. But this time, we are expecting a bigger turnout as 13 taxi and auto-unions will join us," Kamaljeet Gill, President, SDAS told the ScoopWhoop News.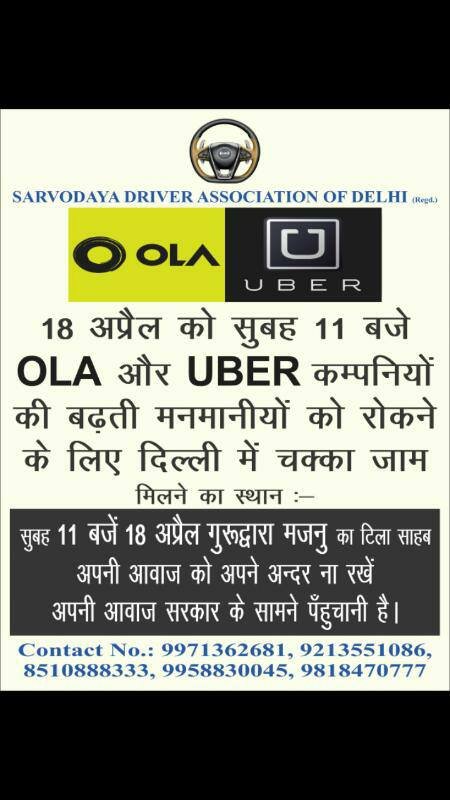 The drivers have been protesting against the several practices followed by these companies which include low rates, lack of incentives and unfair working conditions. They say that they have decided to protest because the companies have always turned down their requests and grievances. 
"They have filed lawsuits worth Rs 4.3 crore against us for causing damage to their services by striking. Today, they even approached the High Court in order to stop us from protesting. But despite them hiring top lawyers, they lost the case. We have the full right to peacefully protest," Gill added.
 Ranveer Singh, Secretary, SDAS explained how the policies followed by these companies are extremely exploitative.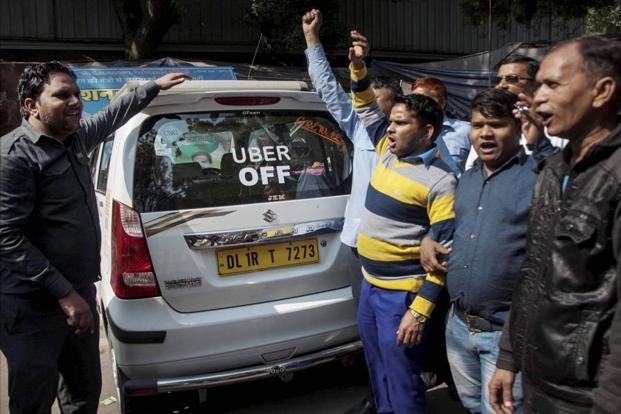 "The companies charges a flat commission of 25 percent. But what for? Just the mobile app? How can we run at Rs 6 per km? We take loans to buy cars. We pay for the fuel. We have to maintain the vehicles all by ourselves. Everything is done by us. But what do we get from the company, nothing," he told ScoopWhoop News.
He also explained that these companies also don't have any employee benefits by narrating the recent case of accident where an Uber driver died after being hit by a BMW car.
"We requested Uber to provide compensation to his family. They denied saying they don't have such a policy. We then requested if the company can deduct a paltry sum of Rs 20 from every driver's account so that his family can be compensated. It again denied saying there is no system in place," he said.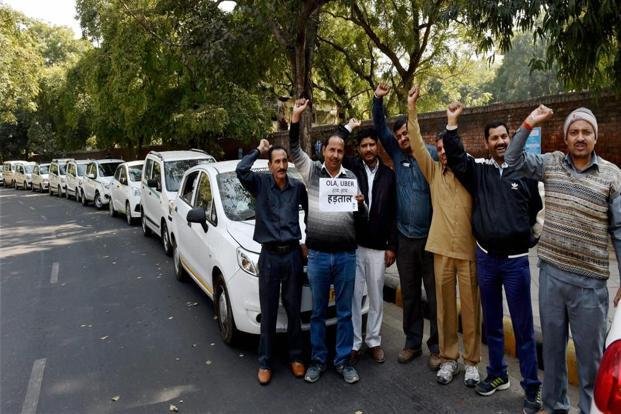 "It is surprising that during the Nepal earthquakes in 2015, the company deducted Rs 100 from every driver's account. Now tell me, how did such a system magically come in place at that time?" he said, added.
The unions are now banking on the government to solve their crisis. 
"We now want the government to address our problems or else will abstain from voting in the elections. We have no other option," Singh said. 
(Feature image source: Reuters)