Old age is that phase of life where one needs maximum attention and care. Not just physical support but emotional support too becomes extremely important.
Unfortunately, the condition of elderly people is extremely pathetic across India. And the country's capital is on top of the list where maximum number of senior citizens face the worst condition.
On the occasion of 'World Elder Abuse Awareness Day', HelpAge India has released a nationwide report titled 'Elder Abuse — The Indian Youth Speaks Out'.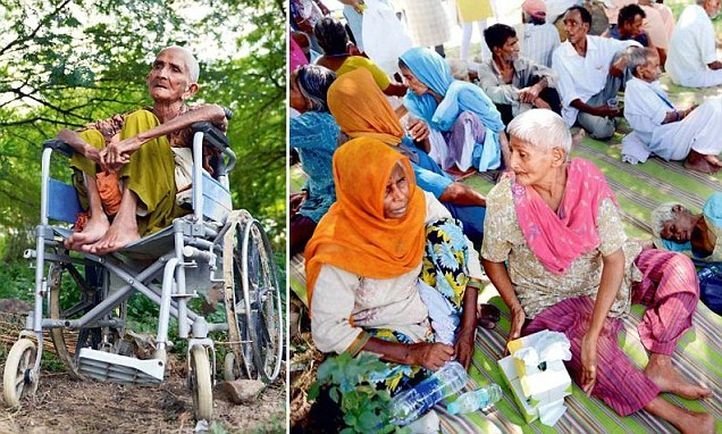 The survey was carried across multiple cities on perception of youth about elderly abuse and care, where 73 per cent of working adults agreed that the problem persists. It indicated that a whopping number of people suffer poor living conditions.
According to the survey, Delhi tops the list with 92% of the youth who are not interested to act upon the issue followed by Chennai (64%), Hyderabad (45%), Ahmedabad (41%), Bengaluru (37%) and Mumbai (35%). The survey was carried out in 200 households selected from 20 middle and upper class localities in 10 cities.
Reportedly, 35 people have died in an old age home in Vasant Kunj, Delhi, and 80 people are currently staying there without proper power, water and medical facilities.
The report has startling revelations about family members who are solely responsible for the miserable condition of the elderly.
According to the report, the youth perception and elder reality is very different when it comes to who the abuser is. While 24% of the youth perceive the son as an abuser, the elderly blame the son in 59% of cases. And the daughter-in-law remains the primary abuser be it youth perception or elder reality.
As per youth experience, the abuser comes in the age bracket of 18 to 34 primarily in the middle income households.
"What is surprising is that the youth of today are aware of the problem. They understand the reasons which precipitate abuse. They have clear solutions on how to avert abuse, but yet seem unwilling to act. Take the case of Delhi where 85% of the youth admit elder abuse exists yet 92% say that they won't act to prevent it. Our aim is to sensitize and engage young adults and urge them to take a stand against this heinous crime by being change agents," said Manjira Khurana, country head, advocacy and communications, HelpAge India.
While this report has come up as an eye-opener for most of the people, it has also unveiled the harsh truth behind the treatment given to the senior citizens by their wards. It reflects harshly on our society and the disgusting behaviour shown by the youth who constitute a major part of the population.