While Ashish Shakya and Rohan Joshi started the English version of their show on a sombre note with a mention of the Paris attack s , Tanmay Bhatt and Gursimran Khamba started the Hindi version of the show with huge smiles of their faces thanks to Pahlaj Nihalani epic propaganda video on Narendra Modi .
The fourth episode was all about the Paris attacks, Syrian refugees, Pahlaj Nihalani, environment issues and the need for public spaces. The Hindi and English versions spoke about the same issues, this time with slightly different jokes and in a slightly different order — reflecting perhaps the differences in their target audiences.
While the English show started with a focus on the Paris attack and ended with the hilarious video released by Pahlaj Nihalani, the Hindi version's scheduling was exactly the opposite.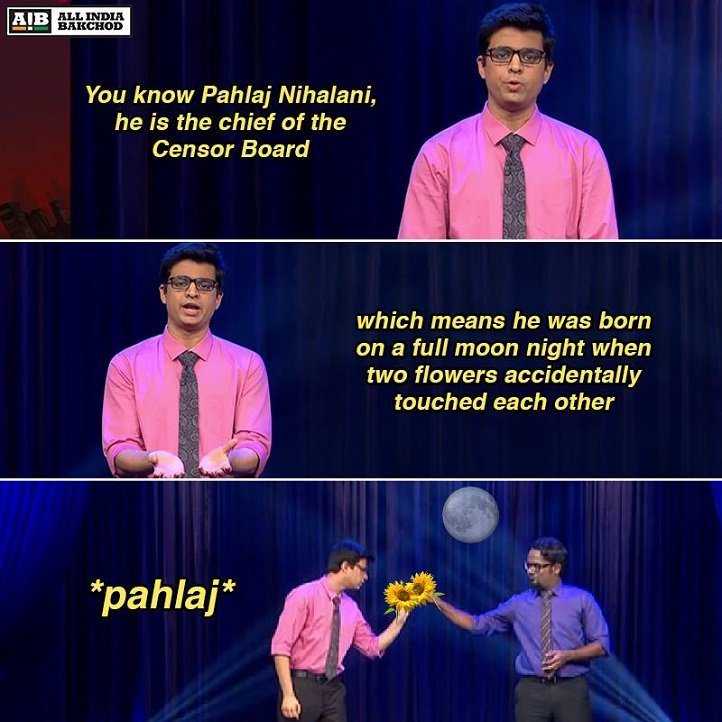 The job of a comedian seems to be easier for Joshi and Shakya since they can speak their mind (think English, walk English, talk English). But that is not the case with Bhatt and Khamba. Sometimes, one gets the feeling that they are translating their English thoughts to Hindi and a lot seems to get lost in translation. It makes their job difficult and less spontaneous.
A metropolitan fan of AIB will probably like the English version more where Joshi and Shakya makes their audience chant "f**k you ISIS" before an ad break.
Khamba and Bhatt, obviously, missed their chance to make the audience swear because let's be honest can you really make a rural Indian feel sympathetic about an attack in a city which is not in India?
A rural Indian cares more about the Modi than ISIS. AIB in its subtle manner has maintained that, but the job is becoming a tough task for Khamba and Bhatt, who can't even swear on screen like Joshi.
Maybe it would be more appropriate to say that Joshi and Shakya are rediscovering their old selves but Bhatt and Khamba are still looking for the sweet spot.
The hindi version of AIB which is clearly targetted at states like Uttar Pradesh and Bihar. In those states, one can presumably say that Aishwarya Rai, Preity Zinta, Deepika Padukone or Anushka Sharma will have greater recall than international celebrities like Scarlett Johansson, Emma Watson or Beyonce. So why would Khamba mention Scarlett and not Anuskha?
There are six more shows left and maybe by the 10th episode, the four of them will be back at their best — going where no show on TV has gone before. Let's see whether that translates into good or bad.
( To watch the shows on hotstar click here. )