Cyberabad Police detained the mother and brother of deceased Dalit scholar Rohith Vemula on Tuesday evening along with eight others after they tried to enter the campus of University of Hyderabad to attend the Rohith Vemula 'Shahadath Din' (martyrdom day) on his first death anniversary. 
According to the police, the family members and some protesting students were taken in preventive custody for allegedly disturbing law and order situation. 
Members of Joint Action Committee for Social Justice – a group of students fighting against caste discrimination and justice for Vemula – said the detained were released at around 1 AM in the night.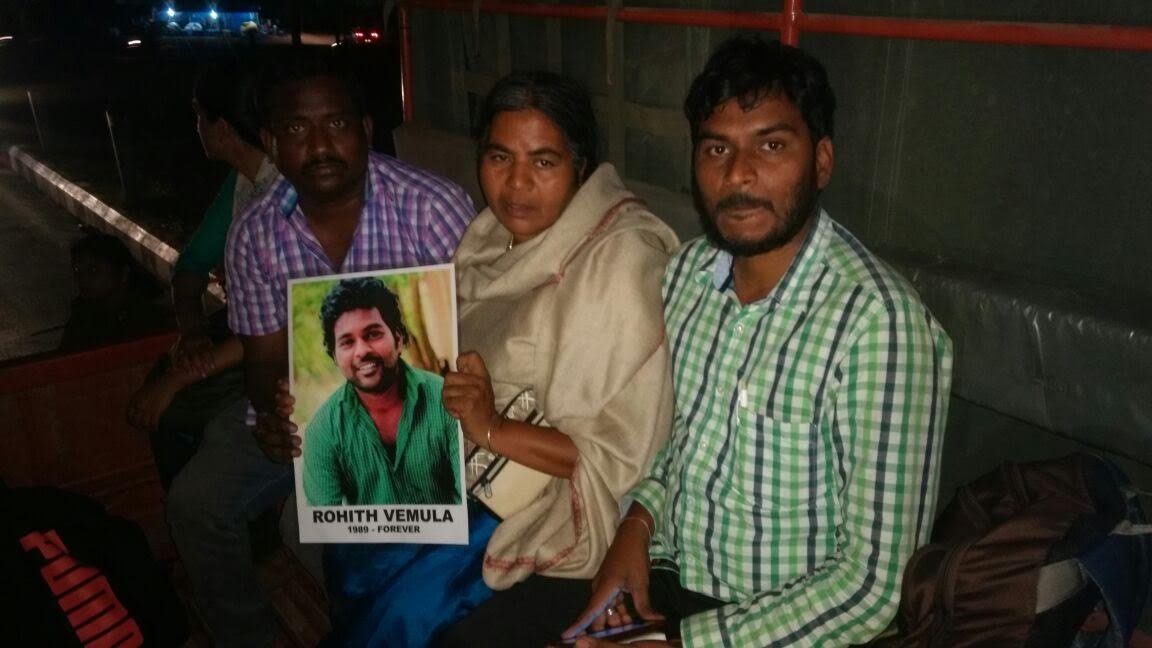 "Rohith's mother and brother weren't allowed to pay respect to the Rohith's statue inside the campus. Even before they could garland his statue, police detained them," a JAC member told ScoopWhoop News. 
The police action triggered massive protests from the students. Marching inside the campus, the students also burnt an effigy of Telangana Chief Minister K Chandrasekhara Rao. 
Earlier in the day a group of protesters on Tuesday tried to gatecrash into the University of Hyderabad (UoH) to take part in a meet organised in memory of Rohit Vemula on his first death anniversary but were whisked away by police. 
The protesters comprising a number of students' organisations had assembled in front of the UoH main gate as part of "Shahadat Din" of Vemula, who was found hanging in a hostel room on the varsity campus on January 17 last year. 
Joint Action Committee for Social Justice – UOH had called for a gathering at the 'Rohit Stupa' to remember his legacy and to vow that fight will go on against "casteism and communalism".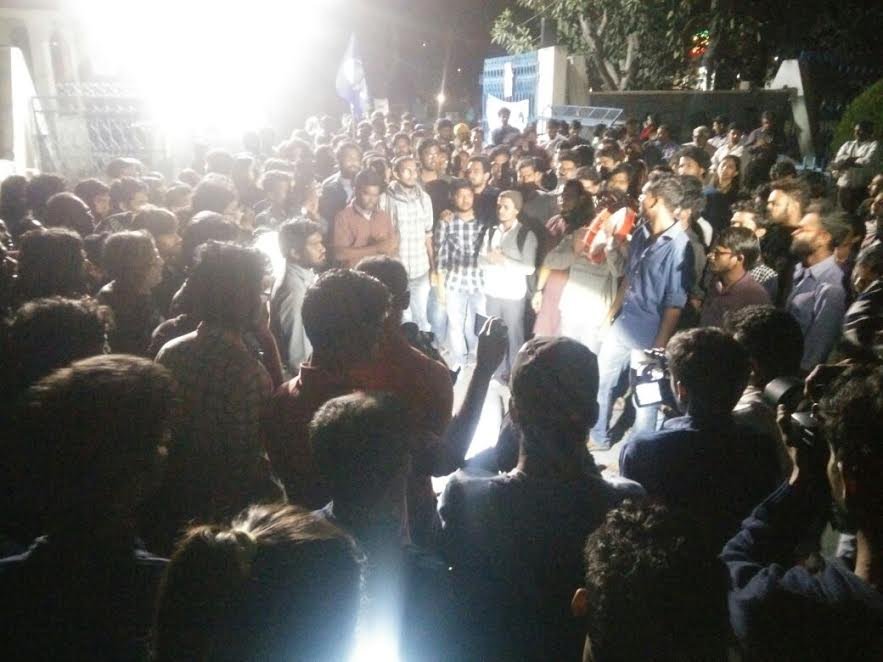 The protesters marched towards the main entrance gate of UoH, raised slogans against UoH Vice-Chancellor Apparao Podile and sought immediate his arrest. Holding placards reading "Justice for Rohit Vemula", the protesters marched towards the main gate and tried to forcibly enter by removing the barricade placed in front of the main gate. 
Police immediately took them away in a vehicle even as JAC members assembled near the main gate after coming from inside the campus. 
Vemula's suicide had sparked massive protests nationwide, resulting in a fierce political slugfest, with a string of political parties and Dalit organisations siding with students and accusing the BJP and varsity administration of being anti- Dalit.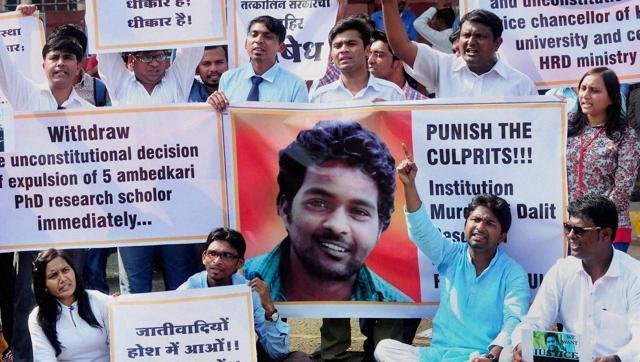 No arrests have been made in the case yet. Police has also failed to file the chargesheet in the case. 
Meanwhile in Delhi, JNU students tried to march to HRD ministry to commemorate Vemula's first death anniversary. However, the students were prevented from reaching the HRD ministry premises by the police. 
Police also detained 50 JNU students in order to break the protest. Many students alleged that they were beaten up and assaulted by the police.  
(With PTI inputs)
Feature image source: PTI/File Photo