The JNU administration has turned down a request by ABVP for a "nationalism lecture" on Thursday fearing it may lead to tension on campus on the first anniversary of the sedition row. 
After a year of controversies following the arrest of student leader Kanhaiya Kumar for sedition on JNU campus, the varsity administration is treading cautiously to maintain "peace and harmony" on "crucial" days. 
The event against the hanging of Parliament attack convict Afzal Guru last year triggered a nationalism debate across the country hogging all the "negative" limelight for JNU, which has led the administration to turn down ABVP's request for a "nationalism lecture" on Thursday fearing it may disrupt peace on campus.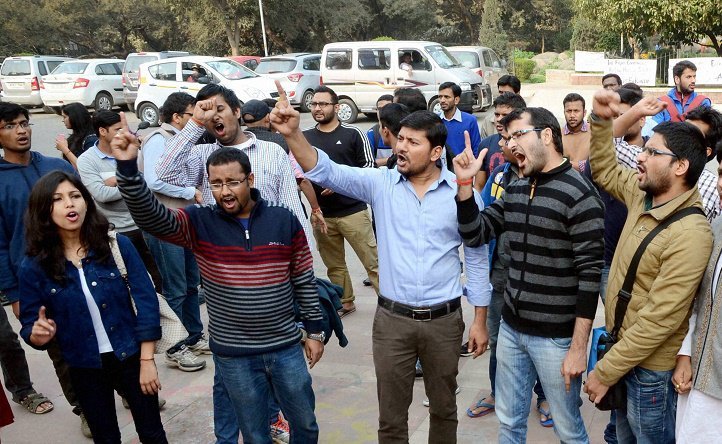 "In the interest of peace and harmony on a crucial day, the program may be postponed," the administration said in response to the application by ABVP's Saurabh Sharma, who had raised objections to the Afzal Guru event last year. 
While the Left-affiliated groups and Democratic Students Union (DSU) which used to organise events on February 9 in support of Afzal Guru every year, have not come up with any plans for this year, the administration has made it clear that no "anti-national" or "nationalism" programme will be allowed to disrupt the functioning and peace of campus. 
The ABVP, however, has vowed to still go ahead with the programme. 
The controversial programme organised last year, sparked an outrage following shouting of anti-national slogans and led to arrest of three students on charges of "sedition". 
"There are certain days which are very crucial and any programme or event which may affect the peace and harmony on campus be it anti-national or nationalism, we don't get into it as smooth academic functioning of the university is a priority for us," a senior varsity official said. 
Sharma on the other hand said, "we will still go ahead with the programme at the scheduled time and venue as it is just a lecture which is harmless for the peace and harmony".
Feature image source: PTI/File Photo