How often does a knock of 109 off 55 balls in a Twenty20 be the SECOND best innings of that match?
Well that's what happens when a magician like Virat Kohli is playing second fiddle to the maestro that is AB de Villiers!
Wearing their one-off green jerseys, the two batting stalwarts of Royal Challengers Bangalore, turned on the heat on a cloudy afternoon in Bangalore. It was as if Bruce Banner had turned into The Incredible Hulk, brought a twin along and wrought mayhem on the hapless Gujarat Lions bowlers.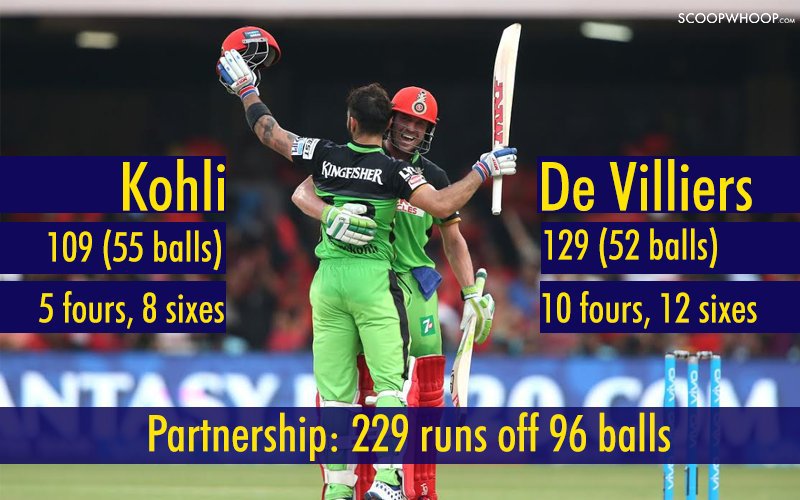 There was a moment in the match that perfectly summed up the de Villiers innings, more than any number of words. Praveen Kumar, Gujarat's best bowler this season, runs in, bowls a short ball, that de Villiers top-edged (seemingly) for a six. Kohli is delighted with that shot, goes up to ABD, gives him a few fist bumps. The next ball is a near-perfect yorker. De Villiers clears his front leg and smashes it straight down the ground. 'Tracer bullet,' you could imagine Ravi Shastri say it to himself with a snigger.
The camera then panned to Kohli's face. The reaction was one of awe. He looked stunned. As if he had just seen a ghost walk in front of him. He did not utter a word. 
The greatest batsman of his generation admiring one of the greatest batsmen of all time. If pictures could tell stories.
That was the kind of innings AB de Villiers played –129 from 52 balls, during the course of which he gave spectators and fielders neck spasms by sending ball-after-ball into orbit — and Virat Kohli had the best seat in the house!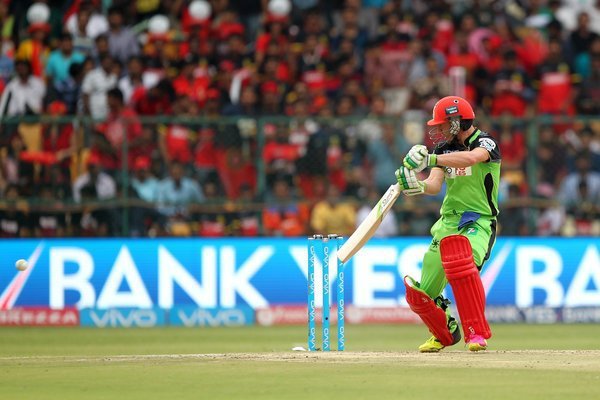 "Actually I didn't feel too good in the beginning, it was difficult to time the ball initially," said de Villiers after that brutal innings.
Really, AB? You expect us to believe that? Get outta here! 
We saw you rock back on to the back foot and hit a straight-batted six over extra cover no less, off just the second ball you faced. Did you look at the face of young Shivil Kaushik after you played that shot? The kid was astounded.
The very next over, you made Praveen Tambe look even sillier with that inside out cover drive for four and that monstrous sweep over fine leg for a six. If that was you not timing the ball well, then don't tell Chris Gayle that. He is barely managing to get off the mark without struggling for a few balls these days. 
In the end, Kohli did catch up with the South African genius, accelerating in the second part of the innings like someone just had pressed the 'nitro boost' button in Need For Speed. Wham, bham, third century of the IPL, thank you very much!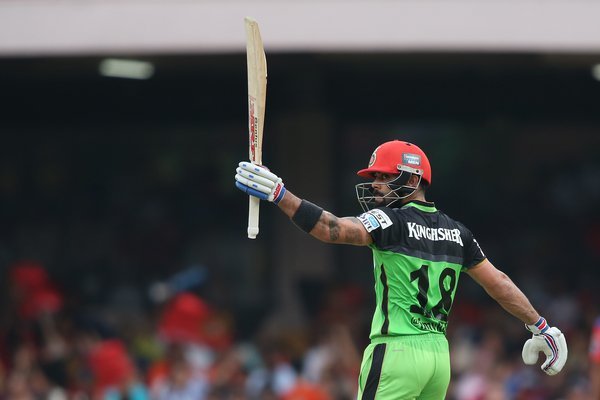 Virat Kohli's 109 off 55 balls:

52 off his first 41 ballsNext 57 runs came off just 14 ballsCrazy acceleration.#IPL2016 #RCBvMI— Sidhant Maheshwari (@msidhant) May 14, 2016
But on a day that RCB simply had to win it was that man AB de Villiers who stepped up and made it count. Especially after Gayle's failure at the top — he made 6 off 13 balls on a day when these two made 60 runs from as many balls at one point — the onus was on ABD and Kohli to make sure they set a target that was defendable even by RCB's leaky bowling attack.
They only managed to stitch together the highest ever partnership in T20 cricket.
What made ABD go *that* crazy, are you wondering?
Well, maybe RCB management should find a place for Mrs. AB de Villiers in every match from now on, if they are to make it to the playoffs!
This man has shown time and again in the past that he can play knocks that can take your breath away. That can make bowlers look pedestrian. It no longer surprises us anymore. 
But every time he does it, it's an absolute treat to watch.