Key Points
Col Pushpender Singh (Retd) and Haviladar Major Singh fast unto death.

Demand for early implementation of OROP.
A relay hunger strike is already on.
PM Modi has not given a timeline for OROP.
PM said "expecting something positive" during I-day speech.
Stepping up agitation on 'One Rank One Pension', a fast-unto-death was launched by two of the protesting ex-servicemen at Jantar Mantar demanding early implementation of the long-pending scheme. "Col Pushpender Singh (Retd) and Haviladar Major Singh rpt Major Singh (Retd) have undertaken fast unto death from today," Col Anil Kaul (Retd), media advisor to the United Front of Ex-Servicemen Movement, said as the agitation at Jantar Mantar here entered the 64th day on Monday, August 16.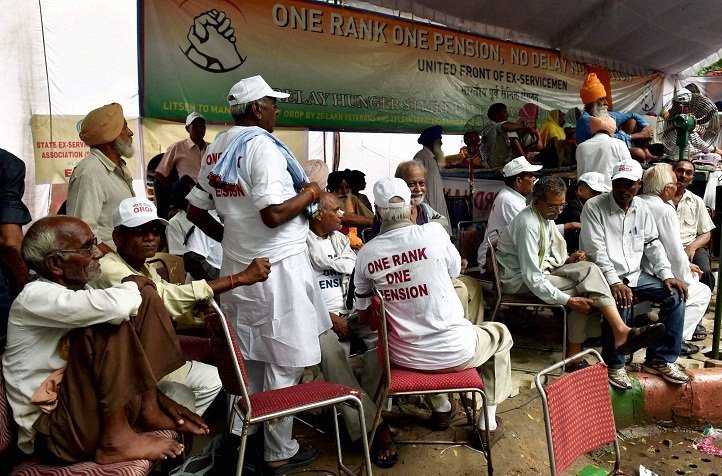 Ex-servicemen during protest for One Rank One Pension at Jantar Mantar in New Delhi | Source: PTI
The protesters have been on a relay hunger strike so far. Havildar Major had been on relay hunger strike since the agitation started.
In his independence speech on Saturday, August 15, Prime Minister Narendra Modi had not given a specific timeline for the implementation of OROP and only said that talks were in the final stages, drawing sharp reactions from ex-servicemen who vowed to step up their protest. Ex-servicemen have been holding a protest at Jantar Mantar and in other parts of the country for over two months demanding early implementation of OROP.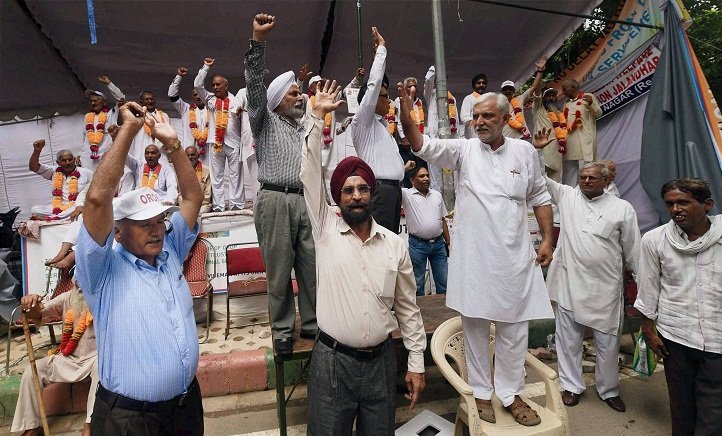 Ex-servicemen shout slogans during their agitation for "One Rank One Pension" at Jantar Mantar in New Delhi | Source: PTI
Close to 22 lakh ex-servicemen and over six lakh war widows stand to be immediate beneficiaries of the scheme, which envisages a uniform pension for the defence personnel who retire in the same rank with the same length of service, irrespective of their date of retirement.
Currently, the pension for retired personnel is based on the Pay Commission recommendations of the time when he or she retired. So, a Major General who retired in 1996 draws a lower pension than a Lieutenant Colonel who retired after 1996.
Read more: