A Pakistan military helicopter carrying diplomats to inspect development projects crashed on Friday, May 8 killing seven people, including the ambassadors of Norway and the Philippines and the wives of the Malaysian and Indonesian ambassadors.
Prime Minister Nawaz Sharif was traveling to the mountainous northern region of Gilgit in a separate aircraft to launch two projects when the accident happened. He returned to Islamabad, his office said.
The Norwegian Ambassador Leif Larsen, Philippine Ambassador Domingo Lucenario and the wives of the ambassadors of Malaysia, the two pilots and a crew member were killed, military spokesman Asim Bajwa said through Twitter posts.
He said that the initial reports indicated the cause was a technical fault.
The Pakistani Taliban claimed they shot down the aircraft but witnesses on the ground, and in three other helicopters on the trip, reported that there was nothing to indicate any firing.
Malaysian state media identified the wife of the ambassador as Habibah Mahmud, while Indonesia said the wife of its ambassador was Hery Listyawati.
Bajwa said the ambassadors of Poland and the Netherlands were among the injured. The ambassadors of South Africa, Lebanon and Romania were also on board, according to a flight list obtained by Reuters. The Romanian Foreign Ministry said its ambassador was alive and uninjured.
"The bodies are so badly torched that they can't be identified," said Sibtain Ahmed, the home secretary of Gilgit-Baltistan.
The Foreign Office said 17 people were on board the Mi-17, one of four helicopters taking people to the projects, when it crashed into a school Gilgit and caught fire. Media said there were 11 foreigners and six Pakistanis.
Farmer Shakil Ahmed saw the helicopter crash into the roof of the Naltar Snow School from his house about 100 meters away.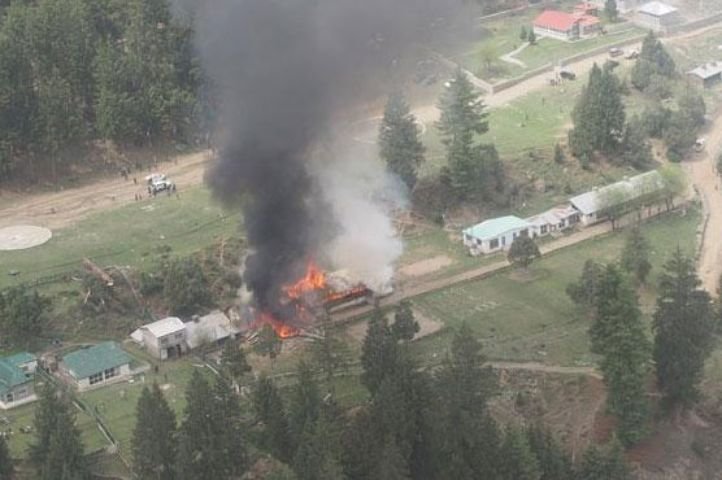 "The helicopter came very close to the helipad, maybe 250 meters in the air, just above the school," said Ahmed.
"It hovered there for a while and then tried to turn when it crashed. Thankfully there were no kids in the school because it was an off-day for security reasons. The helicopter caught fire and was on fire for over an hour," added he.
"Nawaz Sharif and his allies are our prime targets," Taliban spokesman Muhammad Khurasani said in an emailed statement.
Gilgit, about 250 km (150 miles) north of Islamabad, is not a militant stronghold and the Taliban often claim responsibility for incidents that they have nothing to do with.
The Mi-17 is considered a reliable, no-frills helicopter, first built by Russians for use in hot and high conditions in Asia, said James Hardy, the Asia-Pacific editor for IHS Jane's Defence Weekly.
"The military has a lot of money and a good reputation for looking after its equipment," he said.
The Pakistan is believed to operate about 29 Mi-17s and the air force operates about 6 of them, he said. Media have reported four other Mi-17 crashes in Pakistan in the last 11 years.