A 56-hour gunbattle between militants and security forces in Pampore ended today with the killing of two ultras who were holed up in a government building on the Srinagar-Jammu National Highway.
"We have recovered bodies of two militants and the search operation at the EDI building in Pampore has been completed," an army official said.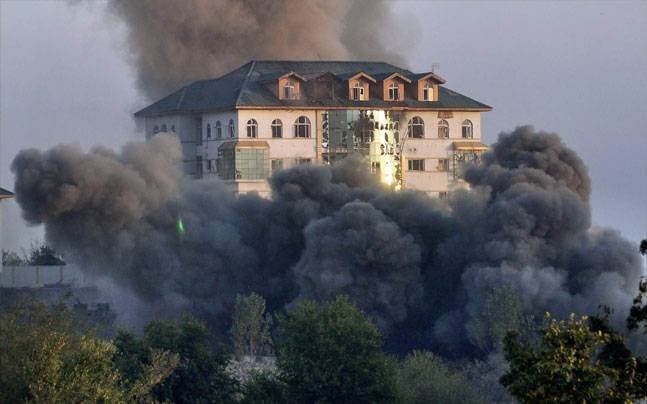 The militants had struck the imposing Entrepreneurship Development Institute (EDI) building in February this year as well. Five security force personnel including two young army officers and a civilian employee of the Institute and three militants were killed in that operation which lasted 48 hours.
Adopting a cautious approach, the security forces pounded the EDI building since Monday to flush out the militants suspected to be of Lashker-e-Toiba (LeT).
"We have taken our time. This is one building and it has 60 rooms. It has a ground floor, six floors and one attic. 60 rooms have as many bathrooms. That is the reason it takes time to clear each and every room," Major General Ashok Narula said, adding the clearing operation had started this morning.
Day before y'day, in morn we heard some firing in EDI building, there was presence of terrorists.We cordoned area & started our op: A Narula

— ANI (@ANI_news) October 12, 2016
"We took our time to eliminate the terrorists to avoid collateral damage," he told reporters at the end of the operation.
Regretting the targeting of the building by militants for the second time in the year, the army officer said, "EDI is a centre of excellence and a lot of our young brethren get employment. And it is very sad that for the second time they have come and an encounter has happened."
While one militant was killed last evening, the other militant was shot dead by the security forces today, another official said.
The operation, which started on Monday, has reduced the multi-storey building to a skeleton after many of its walls were blown up.