It's barely been a fortnight since the government rolled out Rs 2000 currency notes post its announcement of demonetization, and the first counterfeit notes might have already surfaced in Ahmedabad. 
Vansh Barot, owner of Anand Paan Shop in Ahmedabad claimed that he received a "fake" note of the denomination from an unknown customer. Barot  went to the RBI regional office, to deposit the note along with an application as directed by bank officials, in order to get rid of the "fake currency" in his possession. 
Though photocopied Rs 2000 notes have wound up in the market before, this might be the first incidence of 'proper' counterfeiting. 
The note found in Ahmedabad had original markings and features, including the Gandhi watermark, thus appearing to be an original note. But on closer inspection, it appeared to lack some of the detailed security features added to the note. 
Barot said he accepted the note from an unknown customer on either Friday or Saturday as he had to purchase supplies for his shop. 
"I happily accepted it without doubting its authenticity, especially considering that the note has certain features of original note such as Gandhi watermark and security thread, which makes it resemble like an original note at first glance,"  Barot told PTI. 
He realized the note was fake when a supplier whom he tried to pay using the note, raised a alarm. 
"When I place it against the original note, I could see the difference very clearly. The paper quality of fake note is poor, and even its size is slightly smaller than the original note," he said. 
The central bank has confirmed that the note was, in fact, counterfeit. 
Currency notes belonging to Rs 500 and Rs 1000 denominations were demonetised in a strike against black money and counterfeiting of notes.  
A special operation group in Ahmedabad will now probe Barot's case.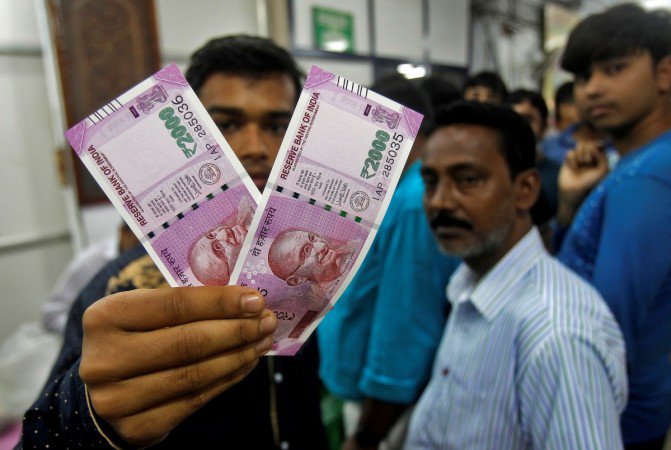 "At the moment, we believe that it is just a good reproduction of the currency note as right from the paper quality to security features, everything is of poor quality and it is not the kind of 'fake Indian currency note' (FICN) we generally encounter arriving from across the border. More can be ascertained after a forensic analysis," a senior police official told Times of India. 
Read more to know about the security features of the new Rs 2000 note, to tell apart an original from a counterfeit. 
(With Inputs from PTI) 
Feature Image Source: Reuters