The Rajya Sabha today passed the Unlawful Activities (Prevention) Amendment Bill that enables the National Investigation Agency (NIA) to designate individuals as terrorists.
A total of 147 MPs voted in favour of the bill while 42 voted against it.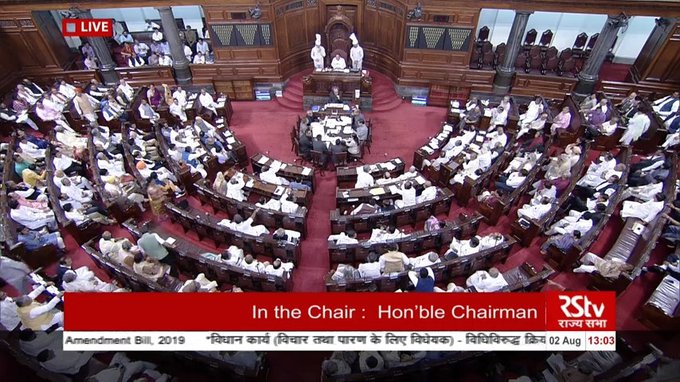 Earlier, the bill met stiff opposition in Lok Sabha when it was passed by the house on 24th July. MPs like Shashi Tharoor, Mahua Moitra and Asaduddin Owaisi spoke against the bill.
While the opposition parties have argued that the act could be misused by the government, the government has said that it will give a big push to the country's internal security.
Opposition leaders like P Chidambaram and Digvijaya Singh voiced their opinion against the amendments proposed by the bill.
Digvijaya Singh in Rajya Sabha on #UAPABill : We doubt their(BJP) intent. Congress never compromised on terrorism that is why we had brought this law. It is you who compromised on terror, once during release of Rubaiya Saeed ji and second by letting off Masood Azhar. pic.twitter.com/12e2pgZCNw

— ANI (@ANI) August 2, 2019
P Chidambaram in Rajya Sabha: In 2008 when I took over as Home Minister, I said anti-terrorism will stand on three legs- one is NIA, one is NATGRID and one is NCTC. We have only one leg today, what have you done about NATGRID and NCTC? Why are they in limbo? https://t.co/9R85xdB8Vb

— ANI (@ANI) August 2, 2019
The Opposition also proposed a motion to send the bill to the Select Committee, which was rejected by the house.
Home Minister Amit Shah countered the objections put forward by the Opposition and urged the house to vote in favour of the bill.
Amit Shah: When we were in opposition, we supported previous UAPA amendments, be it in 2004,'08 or '13 as we believe all should support tough measures against terror. We also believe that terror has no religion, it is against humanity,not against a particular Govt or individual pic.twitter.com/y6xqqLn83L

— ANI (@ANI) August 2, 2019
He also said:
"It is important to designate individuals as terrorists as they start new organisations once an outfit is banned."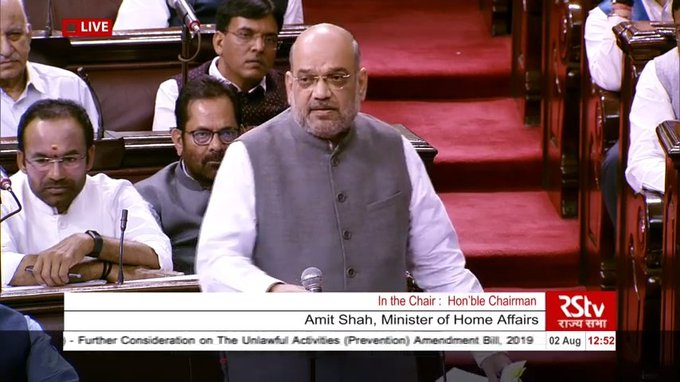 After receiving assent from the President, the bill will become an act and will empower the NIA (which is overlooked by the Ministry of Home Affairs) to designate an organisation as a terrorist organisation if it commits or participates in acts of terrorism, prepares for terrorism, promotes terrorism or, is otherwise involved in terrorism.
The Bill additionally empowers the agency to designate individuals as terrorists on the same grounds.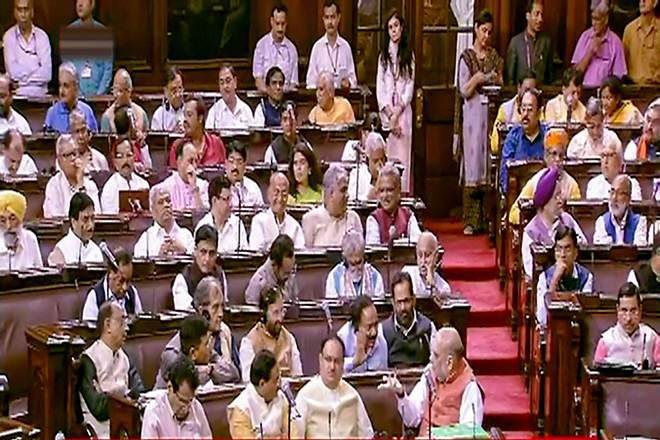 Under the Act, an investigating officer is required to obtain the prior approval of the Director General of Police to seize properties that may be connected with terrorism.
According to a statement by Amit Shah, a four-level scrutiny process has also been provided in the amendment to ensure that human rights are not violated.