At least 81 people lost their lives and more than 80 lakh people were affected in fresh floods due to excessive rains in worst affected Gujarat, Rajasthan, West Bengal and Odisha.
A Home Ministry statement reported that the death toll touched 48 in West Bengal, 28 in Rajasthan and five in Odisha. A total of 36,90,627 people in 9,691 villages of 210 blocks in 12 districts in West Bengal have been affected due to floods, while a population of 40 lakh in Gujarat and 4,80,399 in Odisha.
In West Bengal, 48 deaths have been reported from various parts of the state during the floods owing to lightening, wall collapse, electrocution, snake bite and drowning. A statement from the State government reported that due to cyclone Komen, heavy to very heavy rainfall occurred at isolated places in almost all of South West Bengal districts. The State has deployed 121 boats for rescue and relief operations. A total of 5,672 cattle was also lost in the floods, it said, adding the state government has set up 1,537 relief camps and 2,14,306 people have been accommodated.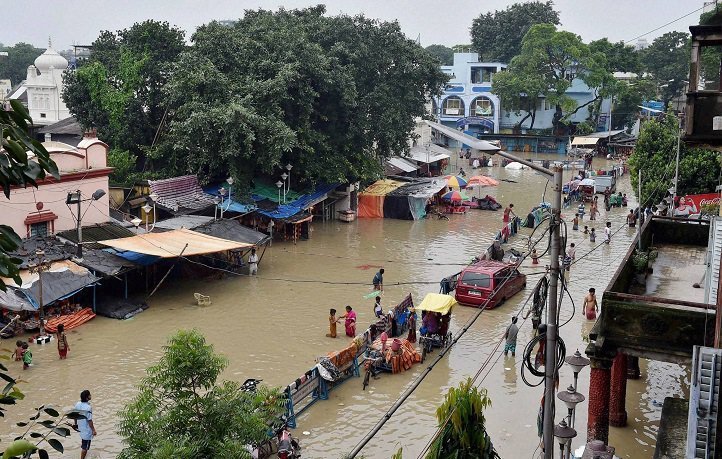 In Rajasthan, 28 people have lost their lives, out of which 12 people died during past few days owing to very heavy rainfall and flood like situation in many parts of the state. Rajasthan has experienced excessive rainfall in most of its districts. The situation is grim particularly in districts of Jalore, Jhalawar, Baran, Sirohi, Barmer and Dungarpur, the statement said.
Apart from State Disaster Response Force (SDRF), Police, RAC and eight teams of National Disaster Response Force (NDRF) have been deployed for rescue and relief operations. More than 630 peoples have been rescued from various districts in Rajasthan.
In Gujarat, 14 districts and population of about 40 lakh were affected in recent floods due to heavy rainfall. More than 10 lakh food packets have been airdropped or distributed to the flood victims. Temporary relief camps have been set up in affected areas and people accommodated on need basis, the statement said. 17 NDRF teams have been deployed for rescue and relief operations in Gujarat.
In Odisha, seven districts namely Jajpur, Mayurbhanj, Keonjhar, Bhadrak, Balasore, Jharsuguda and Deogarh have been affected by the floods, the statement said. Five people lost their lives and 644 villages and 4,80,399 people were affected. 1574 people have been evacuated to safer places, it said. Seven relief camps have been opened and 55 people have been accommodated. 132 boats have been deployed for rescue operations, it added.