Prime Minister Narendra Modi on Sunday addressed the nation through his Mann Ki Baat radio programme. This was the 31st edition of the programme where he spoke on a wide range of topics.
Here are the highlights:
Touching on the issue of global warming, he said, "Climate change was earlier a topic for academicians and seminar. However, today we experience this in our daily lives. Nature has changed the laws. May June ki garmi March April mein aagayi."
Advising the youth, he said, "Our youngsters often prefer leading lives in comfort zones. Now that the vacation period is here, I request our youngsters to move towards new experiences, discover news places and new skills. I urge you to conduct new experiments."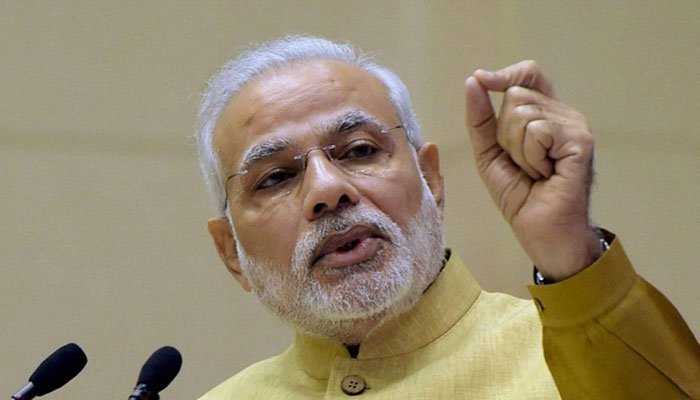 He urged them to be in touch with their inner self. "Move a little away from technology. Learn a new language. It might be Tamil, Telegu, Gujarati or Malayali," he said. "Do something out of the box."
The PM also asked citizens to use BHIM app to make digital transactions. "If new member does three transactions, performs financial business thrice, you will also earn Rs 10 for that," Prime Minister said.
Adding that 'Sabka saath, sabka vikaas' applies in global context as well, he announced that India will launch the South Asia Satellite on May 5. He said, "It is important step by India to enhance co-operation with entire South Asia. I welcome all South Asian countries who joined us. Capacities of satellite and facilities it provides will go long way in addressing South Asia's economic & developmental priorities".
Talking about the recent ban on red beacon cars, the PM said the decision to get rid of red beacons is aimed at removing the VIP culture from the mindset of certain people, and added that the concept should be replaced with "EPI", meaning "Every Person is Important".
"I did not know that people have so much contempt for the VIP culture before we took the decision recently banning use of red beacons on vehicles of ministers and others," he said
"When I say EPI instead of VIP, the meaning is clear — Every Person is Important. Every person has value and importance. If we recognise the importance of 123 crore citizens of the country, imagine the big strength that the country will have in fulfilling the grand dreams. We all have to do it together", he said.
"This year we are celebrating the 1000th birth anniversary of Saint Ramanujacharya who struggled against social evils. In his memory, the Government of India is releasing a stamp tomorrow", he announced.
"You would be aware that for the facilities and respect that workers have earned, we are grateful to Babasaheb. When people mark Labour Day on May 1, we remember Dr. Babasaheb Ambedkar and his role for the welfare of workers", said the PM.
(With PTI inputs)
.