There may be lines, hardships and even deaths. But no one's complaining about the inconveniences faced thanks to the demonetisation of Rs 500 and Rs 1000 notes. At least not on the Prime Minister's app. 
After seeking the people's view on demonetisation through a poll on his app (the failings of which we'd pointed out), the first set of findings of the survey indicate that India is almost ecstatic over the move. 
Of the almost 5 lakh persons who had taken the survey till 3:30 pm on Wednesday, here's what the survey found: 
98 percent believe there's black money in India 
99 percent think the evils of corruption and black money need to be ended 
90 percent think demonetisation is 'brilliant' or 'nice' 
60 percent think the government's moves against corruption are 'very good' 
92 percent believe demonetisation could have an immediate or long term impact on black money, demonetisation and corruption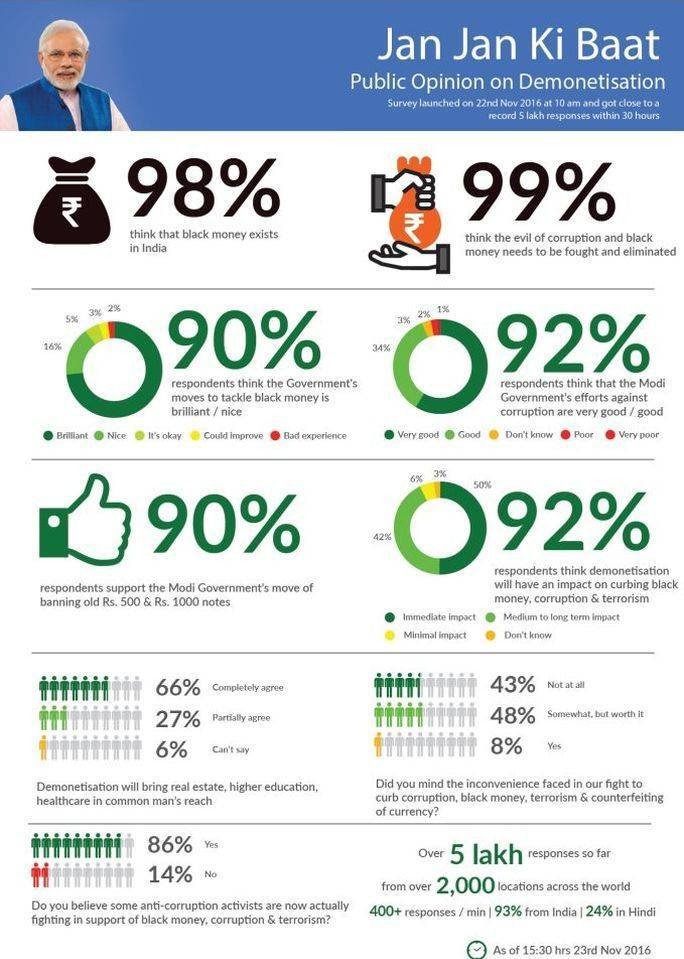 Strangely 86 percent of the respondents don't find it surprising that "some anti-corruption activists are now actually fighting in support of black money, corruption and terrorism". 
The only acknowledgment of any inconvenience comes in the question regarding whether people had faced any problems and whether they minded it. In this case, 48 percent said they did face inconvenience. But given they had to choose having a problem with that or allowing terrorism and black money, they wisely said that they didn't really mind it. 
Some of the suggestions weren't exactly suggestions or ideas either. Like the one highlighted in the app, written by one Nazia Shaikh from Maharashtra: 
I m a Muslim girl, my entire family is against me coz I m a fan of Modi. I don't know much about Indian politics, I don't know bjp or congress or AAP, Shivsena..coz I m too busy with my own life…but I chose this Man to be a PM and I only hope my decision is right..all other politicians have looted Janta..hope Mr Modi proves my family & Muslim community wrong…and I wish him all the best for at least taking such a bold decision and hope he is successful and year by year we only vote for Him..I respect my PM coz I have Chosen him and I will fight all odds to stand by him with all his wise decisions..Mr Modi please don't ever let us down…be true to everything u say in ur speech..I don't know if u will read this or not but I only hope 1.25billion people eyes are on you..Jai Hind.
It's not really clear how this was meant to be a suggestion or idea but has been highlighted anyway. 
There was also a suggestions from one Aditya Sudhakar who said: 
Cashless economy will be successful when everyone is familiar with the usage. Many people, especially in village areas are not familiar with using their bank accounts or cards. It would be great if government can start an awareness drive where people are educated on how to use debit card, credit card, cheque book etc..
The survey isn't closed yet so the findings will continue to get updated. But one thing's for certain, this and other surveys clearly indicate that there is support for the demonetisation move.