The accused in the hit-and-run case in Delhi's Hari Nagar area, which had triggered outrage as the victim lay bleeding on the road for nearly an hour even as people walked past him, was nabbed by the police on Thursday in the evening.
"Based on the CCTV footage from the accident site, the accused identified as the driver of the tempo delivery van, Rajesh, has been nabbed," said a senior police officer.
Earlier, the police had identified the vehicle through its telltale signs as were seen in the CCTV footage and reached to its driver Rajesh who lived at Mahavir Nagar in Uttam Nagar area. The accused was absconding and a manhunt was launched to nab him.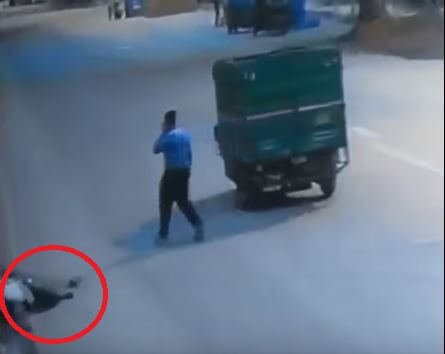 The victim Matibul, 35, was hit by the delivery van in Subhash Nagar area in the wee hours of on Wednesday and died writhing in pain on the road for nearly an hour despite several passersby walking past him and one of whom had even picked up his mobile phone in Hari Nagar area of west Delhi not helping him.
The entire incident was captured in a CCTV camera installed near Ajanta cinema in Subhash Nagar where the accident had occurred around 5 am on Wednesday. Matibul, who worked as a security guard was walking back to his home when he was hit by the van.
The whole incident as well as the injured Matibul lying on the road and people passing him was recorded by the CCTV camera. The recording also showed a rickshaw puller coming near him and then taking away his phone. The deceased was a native of West Bengal and lived near Tihar village in a rented accommodation.