Police fired into a crowd of stone-throwing students in Indian Kashmir on Monday, as violence in the disputed Himalayan region intensified.
Hundreds of student protesters shouting "We want freedom" and "Go India, go back" fought with government forces after taking to the streets of the main city Srinagar.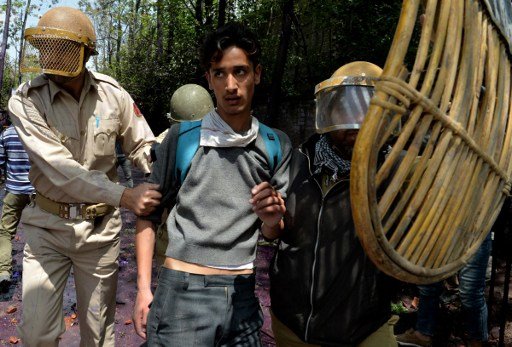 An AFP reporter saw police fire live rounds as well as tear gas and water cannon to try to disperse the protesters as shoppers fled the violence and retailers shut down for the day.
The clashes broke out as colleges in the city reopened following skirmishes last week between students and government forces.
"A few students were detained. Three photojournalists and eight policemen were injured with stones," a police officer told AFP on condition of anonymity.
Nearly 100 students and around the same number of police were wounded in last week's disturbances, which prompted authorities to temporarily shut down schools and universities.
The students were angered by a raid earlier this month on a college in the southern district of Pulwama in which police attempted to detain the alleged ring-leaders of earlier protests.
Government forces are not supposed to enter college or university premises without special permission.
In a separate incident an official with the ruling People's Democratic Party was shot by unknown attackers, later dying of his injuries, a police officer told AFP on condition of anonymity.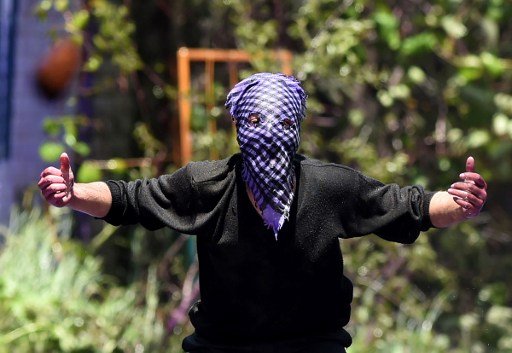 Indian-administered Kashmir has been tense since April 9, when eight people were killed by police and paramilitaries during election day violence.
'Bullets and stone-pelting' 
On Monday the leader of Jammu and Kashmir, the northern state that administers the area, held talks with India's Prime Minister Narendra Modi to address the developing crisis.
Chief Minister Mehbooba Mufti called for dialogue and an end to the violence.
"The first priority is to control the situation, because talks cannot take place amid bullets and stone-pelting," she told reporters outside Modi's residence after the meeting.
Mufti's PDP formed a governing alliance with Modi's Hindu nationalist Bharatiya Janata Party(BJP) after a 2015 election in the state.
That has made her party hugely unpopular in the mainly Muslim Kashmir Valley, home to most of its traditional support base.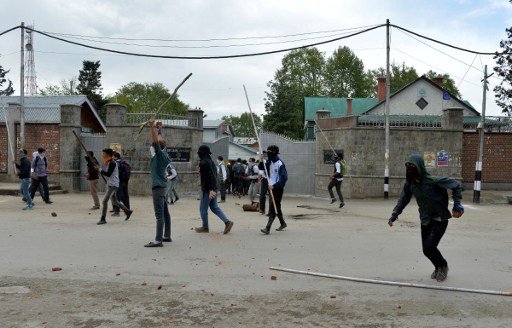 Anti-India sentiment runs deep in the valley, where most people favour independence or a merger with predominantly Muslim Pakistan.
Kashmir has been divided between India and Pakistan since the end of British rule in 1947 and both claim the territory in its entirety.
Several rebel groups have for decades been fighting troops and police deployed on the Indian side of the divided region.
The region had enjoyed several years of relative peace after an outbreak of violence in 2010.
But the killing last year of a popular rebel leader by security forces sparked widespread popular unrest, and police say dozens of local youths have joined the rebel ranks since then.
Footage apparently showing a civilian tied to the front of an army jeep to deter protesters from throwing stones at the vehicle has also caused outrage after it was circulated on social media.
Feature Image Source: AFP