News publication house The Quint on Monday terminated the services of its contributing writer Suprateek Chatterjee after a tweet from his personal Twitter account came under flak on social media. 
This is what Quint tweeted on Monday:
.@TheQuint condemns any kind of hate mongering. pic.twitter.com/CvdTNnY901

— The Quint (@TheQuint) September 18, 2017
Here is what Suprateek Chatterjee wrote on his Twitter handle for which he got fired: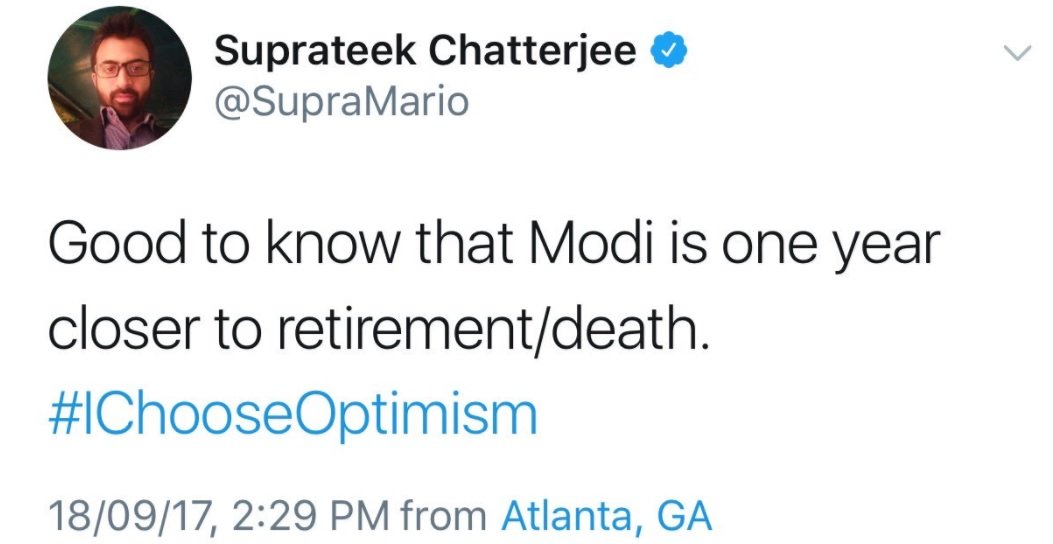 Chatterjee, in what he later said was a "joke", tweeted in the context of PM Modi's birthday that he was glad that Modi was a year closer to his death. 
However, he deleted the above tweet after it came under fire from a lot of people and also went on to lock his account. He unlocked it sometime later.
Have unlocked my account again and have deleted all controversial tweets for the sake of sanity. There are enough screenshots around, I know

— Suprateek Chatterjee (@SupraMario) September 18, 2017
He then issued a clarification on his post on Prime Minister Narendra Modi in a series of tweets:
To sum up his defense, this is what the author said:
His tweet was not a death wish but as a "vocal critic" of PM Modi, he only wished he disappeared from Indian politics
Outrage on his tweet has no bearing on real world and is inconsequential
By sacking him, The Quint has set a dangerous precedent
He further insisted he is not covering his tracks.
… so it's not like I'm covering my tracks or anything. Will lock account again if I need to. Hope this has been adequate. Peace.

— Suprateek Chatterjee (@SupraMario) September 18, 2017
There were mixed reactions to the publication's move to sack him:
*slow clap* Your ass-kissing of late is astounding.

— Madhu Menon (@madmanweb) September 19, 2017
Thanks …. Absolutely no place for hate monger like him in a civilized society. I was shocked to see his tweet. Well done. 👍

— Niraj Kumar Singh (@N1rajKumar) September 18, 2017
Now u guys r feeling the heat of majority ah

— siddartha s g (@siddarthasg) September 18, 2017
.
(Feature Image Source: Twitter)