AAP dissident leader Prashant Bhushan on Monday, April 20 hit back at the party leadership over the show-cause notice issued to him by the National Disciplinary Committee (NDC), accusing its members Pankaj Gupta of accepting donations from dubious companies and Ashish Khetan of doing a "paid news" story, favouring a company.
In his response to the notice which was issued to him on April 17, Bhushan questioned the move saying both Gupta and Khetan had levelled allegations against him and in such a scenario, how can they be "judges" in this case.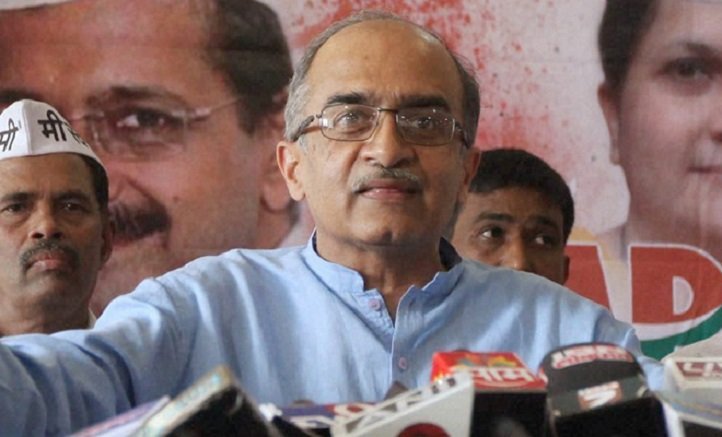 The party's NDC, headed by Dinesh Waghela with Khetan and Gupta as its members, had charged Bhushan with anti-party activities by asking people not to make donations to the party.
Bhushan also accused Gupta of not implementing several decisions of the NDC.
Referring to the case of accepting donation of Rs 2 crore, Bhushan said, instead of referring the case to the party Lokpal Admiral L Ramdas, he was sacked from the post.
"You also know that there have been serious charges against you yourself, which should have been referred to the National Lokpal, Admiral Ramdas. These included the acceptance of donations of Rs 2 Crores from shell companies, without taking the approval of the PAC as required by the party?s rules, as well as of stalling and not executing the decisions of the National Disciplinary Committee which I was heading and of which you were a member.
"But instead of referring those serious allegations against you to the Lokpal as required by the Party Constitution, you have now removed Admiral Ramdas!" Bhushan said in his response to the notice.
He also accused Khetan of writing a "planted" story and added that instead of sacking the former journalist, Khetan has now been rewarded by being appointed as the chairperson of the Delhi Dialogue commission and as a member of the National Disciplinary committee.
Rebutting the charges, the party said that even the Ministry of Home Affairs had given a clean chit to the donations of AAP.
"They are making fun of themselves when they are making such charges. Ashish Kehtan does not need the certificate of media on his journalism," AAP leader Ashutosh as the party strongly came out in defence of their leaders.