Prime Minister Narendra Modi on Monday was ranked 13 on the ' Bloomberg Markets Most Influential ' list. US Federal Reserve chairperson Janet Yellen tops the list followed by Chinese president Xi Jinping and Apple CEO Tim Cook.
US President Barack Obama is at number six.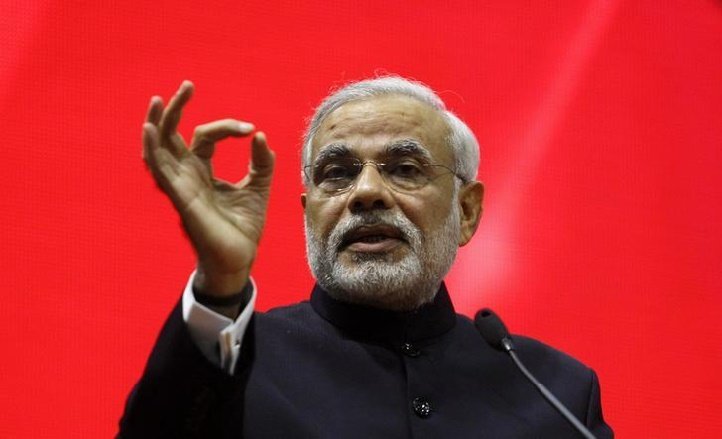 Surprisingly, BlackRock co-founder Larry Fink is at number four just ahead of legendary investor Warren Buffett.
The most influential list comprises a varied set of politicians, economists, bankers, tech executives, entrepreneurs, venture capitalists and money managers. Bloomberg said that half the people in the list were new entrants.
Here is the complete list of the 50 most influential people.
1. Janet Yellen – Chairperson, US Federal Reserve
2. Xi Jinping – President of China
4. Larry Fink – Co-founder, BlackRock
5. Warren Buffett – CEO, Berkshire Hathaway
6. Barack Obama – President of the US
7. Carl Icahn – Chairman, Icahn Enterprises
8. Lloyd Blankfein – CEO, Goldman Sachs
9. Angela Merkel – German Chancellor
10. Reid Hoffman – Co-founder, LinkedIn
11. Jamie Dimon – CEO, JPMorgan Chase
12. Abigail Johnson – CEO, Fidelity Investments
13. Narendra Modi – Prime Minister of India
14. Mario Draghi – President, European Central Bank
15. Jeff Bezos – Founder, Amazon.com
16. Ana Botín – Chairman, Banco Santander
17. Jorge Paulo Lemann – Co-founder, 3G Capital
18. Ray Dalio – Founder, Bridgewater Associates
19. Elizabeth Warren – US Senator
20. Thomas Piketty – Professor, Paris School of Economics
21. Jeffrey Gundlach – Founder, DoubleLine Capital
22. Fan Bao – Founder, China Renaissance
23. Tidjane Thiam – CEO, Credit Suisse Group
24. Ruth Porat – CFO, Google
25. Elon Musk – Founder, Tesla Motors
26. Paul Singer – Founder, Elliott Management
27. Marc Andreessen – Co-founder, Andreessen Horowitz
28. Renaud Laplanche – Founder, LendingClub
29. Akio Toyoda – President, Toyota Motor
30. Paul Krugman – Professor, City University of New York Graduate Center
31. Pope Francis – Roman Catholic Church
32. Ellen Kullman – CEO, DuPont
33. Wang Qishan – Secretary, Central Commission for Discipline Inspection
34. Jonathan Gray – Global Head of Real Estate, Blackstone Group
35. Ken Griffin – Founder, Citadel
36. John Stumpf – CEO, Wells Fargo
37. Wang Jianlin – Founder, Dalian Wanda Group
38. Christine Lagarde – Managing Director, International Monetary Fund
39. Jiang Jianqing – Chairman, Industrial and Commercial Bank of China
40. Jimmy Lai – Founder, Next Media
41. Aliko Dangote – Founder, Dangote Group
42. Michael Kim – Founder, MBK Partners
43. John Taylor – Professor, Stanford University
44. Blythe Masters – CEO, Digital Asset Holdings
45. George Osborne – UK Chancellor of the Exchequer
46. Richard Thaler – Professor, University of Chicago
47. Elizabeth Holmes – Founder, Theranos
48. Mo Ibrahim – Chairman, Mo Ibrahim Foundation
49. Jane Gladstone – Senior Managing Director, Evercore Partners
50. Ruchir Sharma – Head of Emerging Markets and Global Macro, Morgan Stanley Investment Management