Students clashed with government forces in Indian Kashmir on Monday as they protested a police raid on a college, in the latest outbreak of violence to hit the restive disputed territory.
Police fired tear gas and dozens of students were injured in the protests, which broke out in the main city of Srinagar before spreading to other parts of the Kashmir valley.
The students were apparently angered by a police raid on a college in southern Pulwama district on Saturday in which at least 60 students were injured.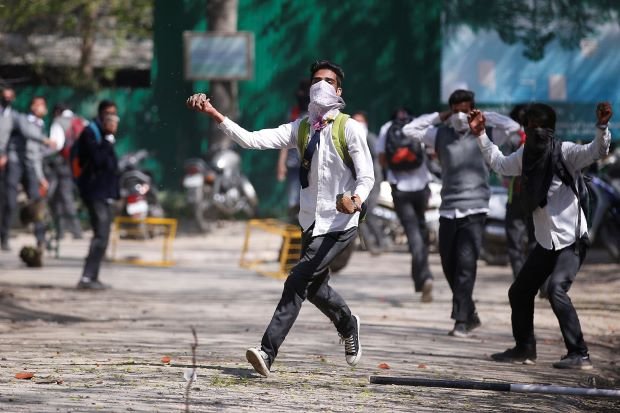 "Students are protesting in a few colleges. We are dealing with a situation," a senior police office told AFP on condition of anonymity.
Indian-administered Kashmir has been tense since April 9, when eight people were killed by police and paramilitary troops during election day clashes.
Four people were killed over the weekend, including a street vendor shot dead by India's Border Security Force.
Three more — one of them a former counter-insurgent leader — were killed by suspected rebels.
E-curfew to be imposed in the valley again. I believe the orders have been issued.

— Omar Abdullah (@abdullah_omar) April 17, 2017
Footage apparently showing a civilian tied to the front of an army jeep to deter protesters from throwing stones at the vehicle has also caused outrage after it was circulated on social media last week.
The Kashmir University Students Union, a banned student body, had called for protests in all colleges and universities following Saturday's incident.
Students in Pulwama alleged on Saturday that police and paramilitary troops raided the college to try to arrest students involved in anti-India protests in the area.
In a statement Saturday, the union said the police action was designed to help the state "rule by repression and fear."
Kashmir has been divided between India and Pakistan since the end of British rule in 1947. Both claim the territory in its entirety.
Armed encounters between rebels fighting Indian rule and government forces have become more frequent since the killing of a popular rebel leader by security forces last July sparked widespread unrest.
Police and army officials say dozens of local youths have joined the rebel ranks since then.
Feature image source: AFP