In a shocking incident, a gangster and his accomplices in Punjab's Sangrur district shot dead a financier in broad daylight and danced around his dead body after the murder. And that's not all, after committing the crime, the gangster posted four Facebook live videos in which he openly valourised his action.
The incident happened on Thursday in the main market of Longowal city at around 10 am when Dalvinder Singh, alias Babli Randhawa, and his four aides approached the deceased Hardev Singh. They shot him five times on his head and danced after committing the murder. They also challenged police officials to catch him and his accomplices.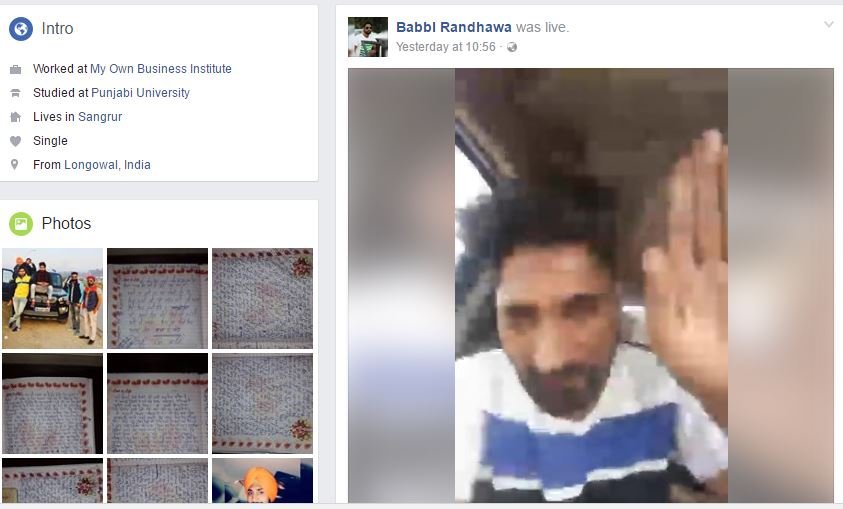 According to a report by the Hindustan Times,  Hardev had lent Rs 5 lakh to Randhawa due to which a dispute arose between the two. 
Randhawa posted four live videos on Facebook in which he bragged about killing Hardev, whom he calls as "pyara veer" (dear brother). In the video, he explained that Hardev had betrayed his trust by not letting him marry his girlfriend. He added that he was attacked by sticks and swords and his friends were insulted by Hardev. 
One of the videos:
In his first video, he sings with the chorus of a song "Poore hosh vich maare fire Jat ne (Jat fired at his rival in his senses)" explaining that he was in his senses when he murdered Hardev. He also goes on to explain that he had earned his rivalry and what he did wasn't a mistake.
All the four videos got more than five thousand views each with hundreds of likes. Many people also commented on his posts and lauded his act.
Randhawa is a history-sheeter and was recently released on bail. Police officials say that they have launched a manhunt to nab him.