During his two day trip to Rajasthan, Congress party vice president, Rahul Gandhi attacked the Narendra Modi government over a number of issues. One of the main issues was the prime minister's silence on the ceasefire violations by the Pakistan army. Gandhi made it a point to bring up PM's campaign promises of a secure and respectable India. He even used Narendra Modi's rhetoric against him by poking fun at his 56 inch chest, saying, his 56 inch chest will become 5.6 inch.
This is not the first time Congress has used this rhetoric to bite back at the Bharatiya Janata Party. In 2014 Congress spokesperson Shakeel Ahmed said, "T he famous words by him (Narendra Modi) is that to deal with such situation, you need a 56-inch chest. I feel that instead of 56 inch chest, prime minister has 5.6 inch chest."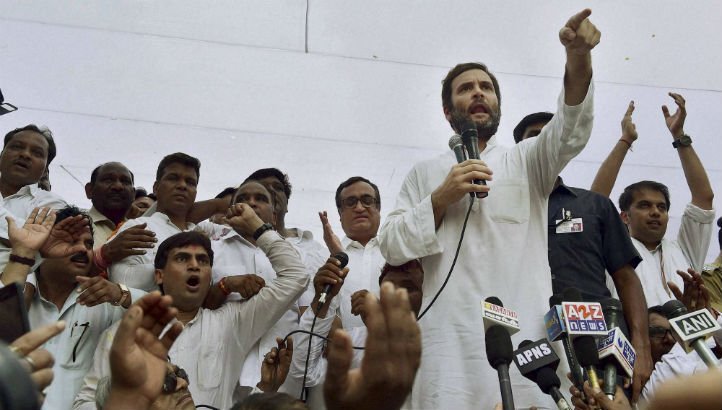 Rahul Gandhi also talked about the LalitGate fiasco that has taken down a number of high profile BJP leaders, including Vasundhra Raje, the present chief minister of Rajasthan.
He said, "This is not a Vasundhra Raje government, it is a Lalit Modi sarkar. They are business partners".
He continued to attack the government on various issues, from the Lalit Modi scandal to the Land Acquisition Bill, and even the Indo-Pak relationship. He went on to talk about how open the Congress party is and how they stand for everyone in the country.
Feature image source: PTI