There is a famous saying "better late than never". Works in the case of present scion of Gandhi family, Congress Vice President Rahul Gandhi, who after much hesitation has finally joined the social media site Twitter as @OfficeofRG .A Twitter account namely 'OfficeOfRG' made its debut on Wednesday evening. There is so far no official announcement in this regard from Rahul's office. The account had no bio on it on early Thursday morning and there were no tweets. However, at the time of publishing this story the bio has been updated to "This is the official account of the Office of Rahul Gandhi | Member of Parliament | Vice President, Indian National Congress. 12, Tughlak Lane, New Delhi"
The account carries a profile picture of the 44-year-old Gandhi.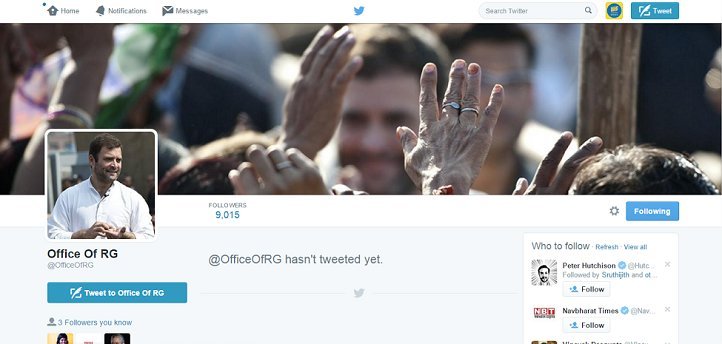 There are two tweets up (at 12:25 pm, Thursday May 7, 2015). The tweets indicate this will be an account giving information of his activity and movement etc. It isn't clear whether he will be tweeting from the handle in first person.
Watch this space for information and updates on Rahul Gandhi's official programs and upcoming events

— Office of RG (@OfficeOfRG) May 7, 2015
Zee News quoted a senior Congress leader saying the account was authentic and belonged to Gandhi's office. "It is yet to be verified because it was launched only today, but it is his account," the party leader said.
Rahul's entry in the world of social media will make the digital battle between three top Indian politicians – Prime Minister Narendra Modi, Delhi Chief Minister Arvind Kejriwal and Rahul Gandhi more interesting.
Modi has over 12.1 million followers on Twitter and more than two crore on Facebook while Kejriwal has 4.38 million followers on Twitter and some 63 lakh on Facebook. India has the third largest internet user base globally — more than 238 million, a bulk of them youngsters. Of the total internet users, more than 100 million are active on social media, especially Facebook and Twitter.
Rahul has often faced criticism for not joining the micro-blogging site. Rahul's joining of Twitter is termed a very late decision. Last year's elections were purely seen as digital elections. Digital media played an important role and was one the crucial factors in Prime Minister Narendra Modi's election to power, especially in helping him connect with the youth. Feature image source: Twitter