In a bid to woo Hindu votes ahead of the Assembly polls in UP, Rahul Gandhi on Friday offered prayers at the Hanuman Garhi Temple in Ayodhya, becoming the first member of the Nehru-Gandhi family to visit Ayodhya since the demolition of the disputed structure in 1992. 
Hanuman Garhi is about a kilometre away from the Ram Temple at the disputed Ramjanmbhoomi-Babri Masjid site but Rahul stayed away from the place of 'shilanyas', the foundation stone that had been laid there in 1989 for construction of the Ram Temple.
Before having 'darshan' at the Hanuman Garhi Temple, the 46-year-old Congress Vice President met Mahant Gyan Das, who is known for his anti-Vishwa Hindu Parishad (VHP) stance. After his 15-minute closed door meeting, the Mahant said, "Rahul came to seek blessings. If a leader goes to a priest, it is not a big issue.
"Moreover, when one seeks blessings, one definitely comes for fulfilment of some wish…They seek blessings…come with some expectations…we have given blessings…we pray for his welfare," he said. The Mahant is a member of the Akhil Bharatiya Akhara Parishad (All India Akhara Council) — the apex organisation of Sikh and Hindu sants and sadhus (ascetics).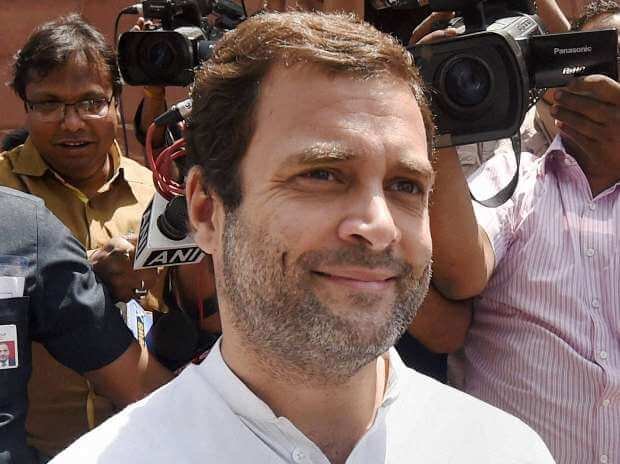 Sources said Rahul did not speak about any compromise on the Ramjanmbhoomi-Babri Masjid dispute, but gave an assurance that Congress would stand by whatever the Supreme Court decided. Rahul also did not discuss the upcoming Assembly elections with the Mahant, they said.
No member of the Congress' first family has visited Ayodhya since the demolition of the Babri Masjid 24 years ago, in December 1992. Rahul's move on Friday is apparently aimed at blunting a perceived negative image for Congress among Hindus.
Old timers recall that 26 years ago, Rahul's father and former prime minister Rajiv Gandhi had planned to visit the Hanuman Garhi Temple on a trip to Ayodhya during his 'Sadbhavna Yatra' in 1990, but he could not make it because of paucity of time. Rajiv was assassinated the next year, on May 21, 1991 when Rahul was 20 years old.
As a convoy of cars, buses and open trucks rolled into the temple town, people rushed out of their houses to have a glimpse of the Congress leader, who is out on a 'mahayatra' during which he will cover 39 districts spread over 55 of the 80 Lok Sabha constituencies in Uttar Pradesh. Much significance is being attached in political circles to Rahul's visit to Hanuman Garhi.
Observers see a soft Hindutva agenda in the Ayodhya visit at a time when Congress appears to follow a Brahmin-centric campaign in Uttar Pradesh prescribed by election strategist Prashant Kishor, who is scripting every move of the Congress scion.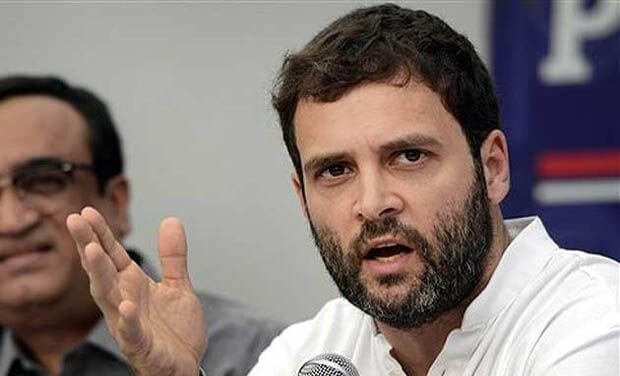 After his brief visit to Hanuman Garhi Temple, Rahul returned to the Circuit House before staring his road show to culminate with a visit the Kichaucha Sharif Dargah, a Muslim shrine in adjoining Ambedkar Nagar, apparently to play a balancing act. Kishor is of the view that Congress must win its original constituencies of Muslims, Brahmins and a section of the non-Dalit Other Backward Castes (OBCs) as it makes a serious attempt at an impact in UP, which it had last won 27 years ago.
In the 2014 Lok Sabha polls, Congress had secured only two seats from UP with Sonia and Rahul emerging victorious from their family strongholds of Rae Bareli and Amethi respectively. The party is trying to regain its lost moorings in the state where it currently has only 29 MLAs in the 403-member Assembly.
Congress has been in political wilderness in UP since 1989 following the emergence of 'Mandal-Mandir' politics and rise of BSP which took away its crucial Dalit vote base. Mayawati's party had also lured a large chunk of Brahmin votes in the past when candidates of the community were given tickets by her to contest elections. 
The Brahmin community plays a significant role in poll outcome in central and eastern UP as it is the dominant caste there. Once a traditional vote bank of the Congress, Brahmins in the state shifted allegiance to BJP in the aftermath of the emergence of 'Mandal-Mandir' politics.
(Feature image source: PTI)