On Tuesday, ScoopWhoop News wrote an article on journalist Rajdeep Sardesai's recent 'interview' with Uttar Pradesh chief minister Akhilesh Yadav's children. We pointed out that the "'saccharine-sweet" chat was "all sorts of ridiculous" and seemed like a total misfit in the channel's political series ominously-titled 'War for Thrones'.
This was how Sardesai reacted to our article on Twitter: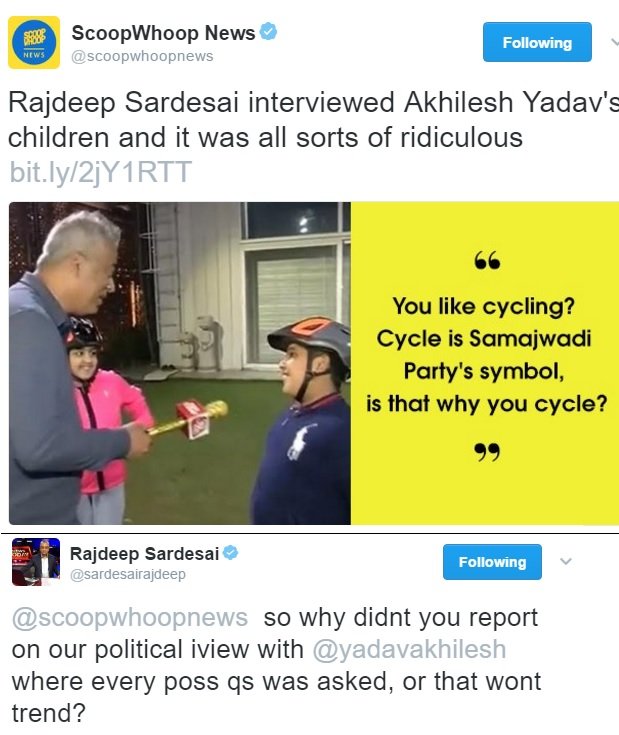 We thought he had a point. So we decided to watch the political interview in question. 
Conducted in Lucknow aboard a plane, the nearly 15-minute long conversation had Sardesai throwing all sorts of questions at the young Samajwadi Party chief minister, who recently emerged victorious from a family feud and entered a surprise alliance with the Congress.
What we learnt from the interview, however, was that the Uttar Pradesh Chief Minister is an expert at dodging questions. Almost throughout the interview he didn't really answer what was asked, choosing to use the opportunity to boast about his performance in UP instead.

Here's how the interview went: (the questions and the answers have been translated into English by ScoopWhoop News).
Sardesai: "If your work was good, why did you compromise and form an alliance with the Congress? They even took a dig at your party with their slogan '27 saal UP behaal'.
Akhilesh: "They went with that slogan before the alliance. Now I have asked them to change it to '27 saal UP khushhaal."
Sardesai: "Is this a marriage of convenience?"
Akhilesh: "This is not the question. The question is, what did the Centre give to the people of UP."
Sardesai: "Your party has been based on an anti-Congress ideology."
Akhilesh: "Samajwadis have been saying that when the Congress party is at its weakest, it will be the closest to SP."
Sardesai: "Have you forgotten what Congress leaders have been calling you, a 'gunda party'?
Akhilesh: "SP had that image. It was even called a party that's against computers. I went on to distribute 18 lakh laptops. Today, UP is becoming an IT hub."
Sardesai: "There are allegations that you tied up with Congress because Mayawati is fielding a lot of Muslims."
Akhilesh: "The question is not who gives more tickets to Muslims, the question is who does more for that community."
Sardesai: "There have been riots where Muslims were targetted. Why should Muslims vote for you?"
Akhilesh: "Riots have been sparked by the BJP. It's because they don't have any work to show."
Sardesai: "You are accused of Muslim appeasement."
Akhilesh: "I am not concerned with what the critics or the BJP says. The SP is committed to giving everyone justice."
Sardesai: "Do you see Rahul Gandhi as a national leader or as a 'Pappu' as some leaders called him?
Akhilesh: "It's the public that makes a leader."
Below is the bit we thought was most interesting. Priyanka Gandhi, who was widely rumoured to have put together the alliance, had no role to play, claimed Akhilesh.
Sardesai: "Did Priyanka play an important role in the alliance."
Akhilesh: "There was no role played by Priyanka. SP has showed a generous heart in giving them 105 seats."
Sardesai: "Why did you go against your family for the elections."
Akhilesh: "I had to take some tough stands. This party belongs to Netaji (Mulayam Singh Yadav). If the party wins, Netaji will get all the respect."
Sardesai: "Corruption has increased. There is a Yadav raj in UP."
Akhilesh: "I ask you how many DMs, SPs and news channel owners are Yadavs."
The interview concluded with this last question:
Sardesai: "You do politics of religion and caste."
Akhilesh: "Samajwadis have risen above such things to do development. 
The India Today consulting editor had said that he threw every conceivable question at Yadav, and it was true, he did. Unfortunately since the UP chief minister was more intent on dodging questions, it didn't turn out to be the most scintillating interview. So while Yadav did escape unscathed, it didn't exactly tell us anything that made national headlines. 
Maybe, the editor was right, it was more interesting to see the interview with the Yadav kids. 
Here's the interview available on YouTube: