As Rajdeep Sardesai wrote , it is the season of open letters.
On Monday, black ink was thrown on Sudheendra Kulkarni's face over a book which the Shiv Sena did not want launched in Mumbai. What followed next was unprecedented — Kulkarni went ahead with Khurshid Mahmud Kasuri' s book launch with a blackened face.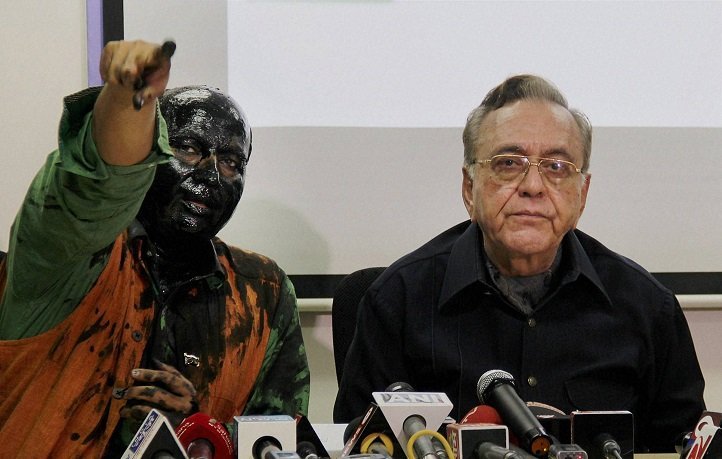 Former ideologue of the BJP Sudheendra Kulkarni, with face blackened by Shiv Sena activists, and former Pakistan foreign minister Khurshid Mahmud Kasuri showing the latter's book at a press conference in Mumbai | Source: PTI
Sardesai took up Kulkarni's cause with an open letter to Aaditya Thackeray.
"The Shiv Sena we were told was angry with the presence of a Pakistani on Indian soil and wanted to register their protest. So, ink had to be spilled on the streets of Mumbai yet again. Last week Ghulam Ali, this week Kasuri: the Sena is back in the news.
You have every right to feel strongly about Pakistan-based terror. You have every right to dislike Mr Kasuri. But if you don't like him or Pakistan, or his book, don't read it, boycott the function, wear a black band. Ditto with a Ghulam Ali. But what gives you or the Sena's goons the right to physically attack the organisers or force the government to call off a concert?
If Maharashtra's asmita has to be defended, maybe Sainiks should go to Marathwada and help farm widows in distress. Or is that not the kind of front page news your party seeks?"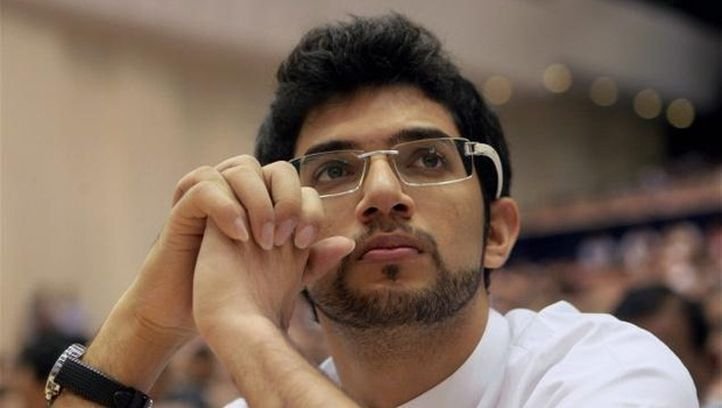 Aaditya Thackeray | Source: PTI
The head of the Yuva Sena is not one to take these comments sitting down. He came up with a rebuttal on why the Shiv Sainiks threw ink on Kulkarni. A non-violent act is what he labelled it.
" Ink spilt may be more violent for you than its intent to protest against all the innocent blood spilt on the streets of Mumbai, Jammu and Kashmir, every city that has faced Pakistan sponsored terrorism.
Lets not even compare the ink shed on a person who has openly lauded a naxal sympathiser and endorses a foreign minister having links with anti India separatists from the valley, to the blood shed in our country by terrorists."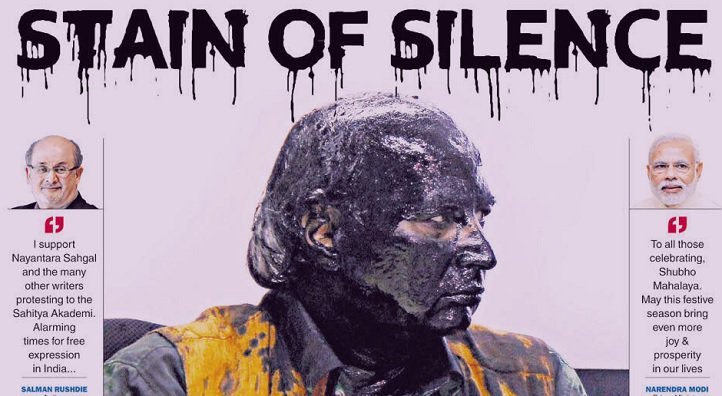 Sardesai c ountered by asking why Shiv Sena's outrage is confined only to Mumbai.
"If you felt so strongly about prime minister Modi reaching out to Pakistan, then maybe you should have withdrawn from the union cabinet? After all, major foreign policy decisions do fall within the collective responsibility of the cabinet, don't they? And why was there no protest when Mr Kasuri was given a visa, or had a book release in Delhi that was attended by BJP stalwarts LK Advani and Yashwant Sinha? Or is the Shiv Sena's outrage confined to Mumbai city only?"
Are we saying that the Shiv Sena is above the constitution of the land that allows law enforcers to be law breakers? What message are we sending out to the policemen if their leaders encourage violation of the law? And if you feel that Devendra Fadnavis is wrong in providing security to the former Pakistani foreign minister, then why not take a black flag protest to Mantralaya, why seek to prevent those Mumbaikars who may want to attend a book function from doing so? Isn't this after all about competitive politics and proving yourselves to be greater desh-Bhakts than your saffron allies ahead of local elections? The Shiv Sena, lest we forget, is a political party, not a local militia. Or is it the other way round?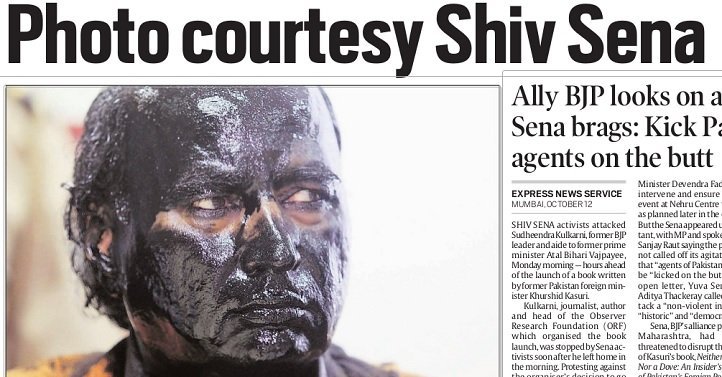 A screenshot of The Indian Express ' front page on Tuesday
Perhaps, it is apt to quote Danish Hussain at this juncture, " It's not that BJP or Shiv Sena is saddled with some new found love for liberalism or tolerance when they go ahead with Mahmud Kasuri's book launch or sell meat during the meat ban respectively; it's just a power tug of war between old allies-turned-holier-than-thou competitors. And sometimes in this naked but risqué display of competitive nationalism, democracy by default ends up being a winner."