Nalini Sriharan, a convict in the Rajiv Gandhi assassination case, was today granted a 12-hour parole to attend the last rites of her father. 
"She has been granted a 12-hour parole and will return to jail by this evening," a jail official of Women's prison here told PTI. 
She left the Vellore Central Prison (women's jail) under police escort around 6.50 AM.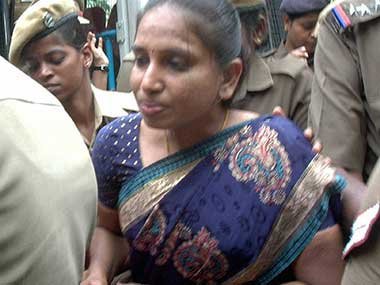 She is on her way to Chennai where she will attend the cremation of her father Sankara Narayanan. 
Nalini was sentenced to death by a trial court in the case on January 28, 1998. Her sentence was commuted to life term by the Tamil Nadu Governor on April 24, 2000. 
In December 14 last year, she had moved Madras High Court seeking a direction to Tamil Nadu government to consider her representation for premature release, saying she has undergone imprisonment for more than 24 years.