Taking offence over noted historian Ramachandra Guha's statements on journalist Gauri Lankesh's murder,  the Bharatiya Janata Party's youth wing in Karnataka has slapped a legal notice against him. 
A day after Lankesh was shot dead, Guha had blamed RSS-BJP for the murder.
 "It is very likely that her Gauri Lankesh's murderers came from the same Sangh Parivar from which the murderers of Govind Pansare, Narendra Dabholkar and MM Kalburgi came. The ruling dispensation in Delhi has created a climate of hate and intolerance," Guha had said while linking it to the murders of rationalists, reports India Today.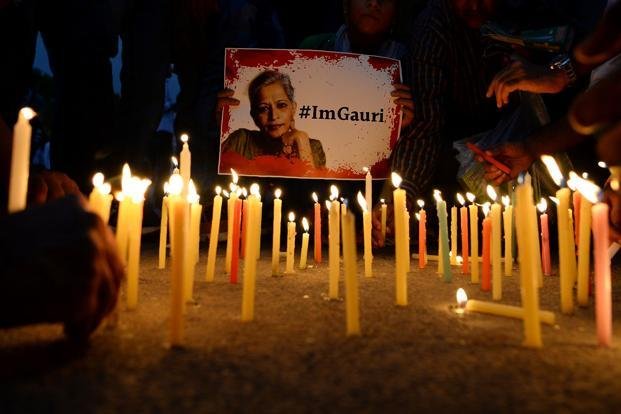 But the statements have angered BJP Yuva Morcha and they are now asking him to apologise.
"If Ramachandra Guha does not apologise, our party will initiate a legal process and take this to the court. Not just Guha, we are observing everyone who makes such comments, and notices will be issued to them, too,"  Karnataka BJP spokesperson Ashwath Narayana said, reports News 18.
Guha who has been strongly protesting against her murder took to Twitter to respond to the legal notice.
Atal Bihari Vajpayee said the answer to a book or article can only be another book or article. But we no longer live in Vajpayee's India

— Ramachandra Guha (@Ram_Guha) September 11, 2017
In India today, independent writers and journalists are harassed, persecuted, and even killed. But we shall not be silenced.

— Ramachandra Guha (@Ram_Guha) September 11, 2017
Apart from Guha, Congress Vice President Rahul Gandhi also blamed BJP-RSS for Lankesh's murder. A day after her death, he said that anybody who speaks against the ideology of the BJP-RSS is pressured, beaten, attacked and even killed.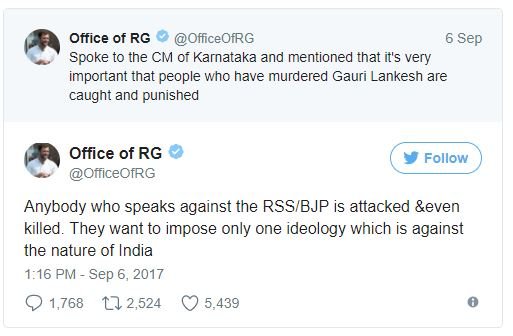 After his statement invited sharp reactions, Congress issued a clarification saying that they never blamed BJP-RSS, reports Indian Express.