Real Madrid, the world's richest club by income, sacked coach Carlo Ancelotti for failing to win any major silverware this season. Rumours are flying high that Napoli's Rafa Benitez is the favourite to succeed him.
" The board of directors have decided this evening to relieve Carlo Ancelotti of his duties," president Florentino Perez told a news conference on Monday.
" It was a very difficult decision ... but we have not come to Real Madrid to take easy decisions but to take decisions that we believe are the best for an institution that is a reference point around the world," added the construction magnate.
Ancelotti leaves as he leaves the press Real Madrid press conference | Source: Reuters
"The demands are huge and we believe it is the right moment to give fresh impetus that will allow us to win more titles and reach our optimum competitive level in a new phase."
The club is likely to announce Ancelotti's successor next week. Former Liverpool and Chelsea boss Benitez, who once had a stint as a Real youth coach, is the likely frontrunner.
Others linked to the job are German, Juergen Klopp, who has quit Borussia Dortmund, and former Real player, Michel who has had spells running the B team at the Bernabeu and clubs including Getafe and Sevilla.
Ancelotti, who had a three year contract that was due to run till the end of next season, had lead the team to victory in the Spanish Cup before securing its 10th European Crown.
However, this term they were eliminated in the Champions League semi-finals by Juventus while Barcelona won their fifth La Liga title in seven years. Real also lost to Atletico Madrid in the King's Cup last 16 in January.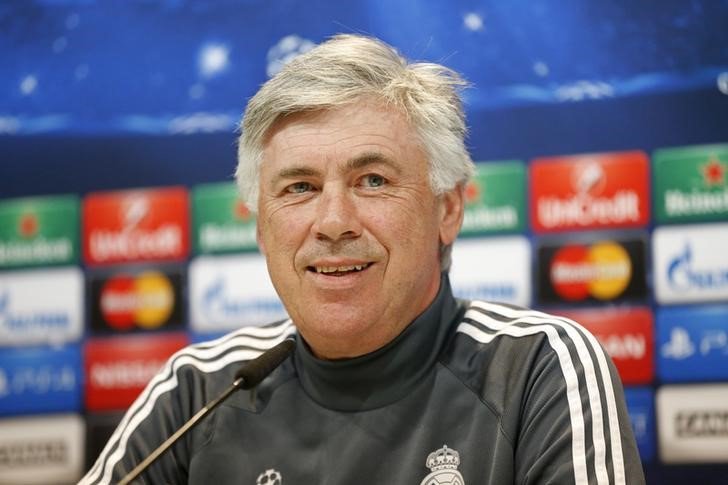 Ancelotti during press conference | Source: Reuters
Real won the European Super Cup and the Club World Cup but Ancelotti's failure to win any of the three trophies that make up the traditional treble was deemed unacceptable.
In one sense Ancelotti's departure was inevitable, because all powerful Real boss, Florentino Perez seems to have taken the decision a while ago.
Even in mid-March, Perez would assert that Ancelotti would only be in charge for the next few "days and weeks". According to BBC expert Andy West, this implied that Perez was planning on dropping the axe if the Italian failed to deliver the Champions League or La Liga trophies.
Perez is facing a great deal of public and private pressure over his decision to let go of Ancelloti. Players such as top scorer Christiano Ronaldo and James Rodriguez have strongly opposed the decision and have taken to social media to show their support.
Ancelotti has retained his public support till the end. His last pre-game conference on May 22, ended with a standing ovation from the media. This was repeated by fans before the May 23 game against Getafe at the Bernabeu.
According to Andy West, "Perez... now faces a tough task in placating those within and outside his organisation who wanted to keep Ancelotti by appointing a suitable replacement. And the early signs are that Rafa Benitez would receive little more than a lukewarm reception."
(With inputs from Reuters)