On Thursday morning, 17-year-old Varshil Shah from Ahmedabad became Suvirya Ratna Vijayji Maharaj after taking 'diksha' from his guru Kalyan Ratna Vijayji Maharaj on the banks of river Tapi. What took many by surprise was that Varshil, a student of Ahmedabad's Navkar Public School, is an exceptionally bright student who scored an impressive 99.99 percentile in HSC exam. 
He topped his school in General Stream with 93.60 per cent and seemed ready for a start to a promising career.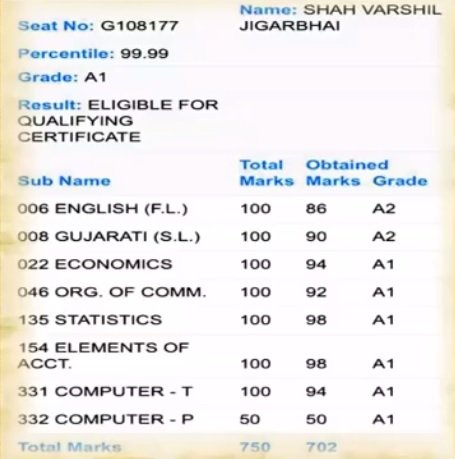 Varshil's initiation into monkhood, however, isn't as arbitrary as it sounds. 
He comes from a devout Jain family – his father is an Income Tax officer and mother a homemaker – that lives an austere life. They have no TV or refrigerator and almost never use electricity unless they have a visitor. They use a hand fan, sleep strictly at 8:30 pm and wake up at 4 am. 
Earlier, a cousin of Varshil too became a monk. Varshil's inclination towards monkhood can be gauged from the fact that, for the last five years, he has been following the strict practice of ekasanu, which means he eats only once a day.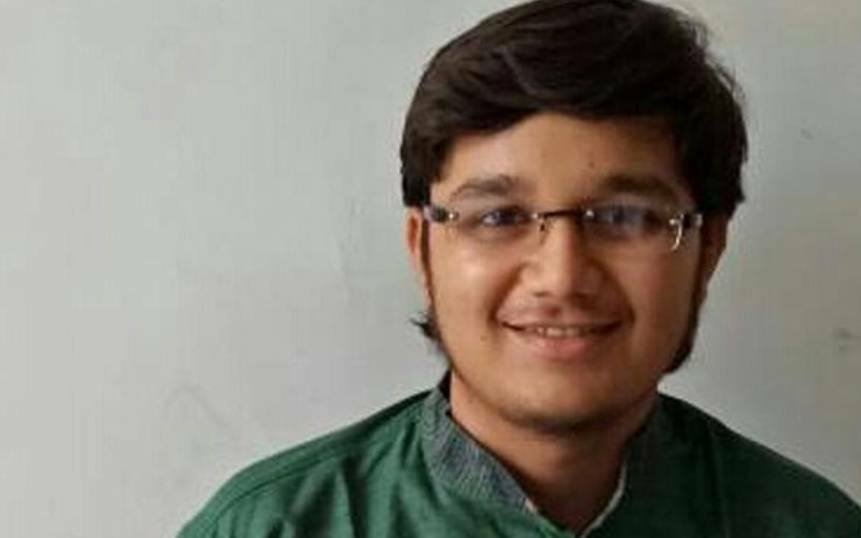 Varshil had made up his mind to renounce worldly pleasures days before his HSC result was announced (Varshil did not even collect his marksheet from school). A letter by him stating his reasons (text part of the letter, translated from Gujarati in English by The Times of India) show that his move is a considered one:
"I always wanted to live a good life in peace and happiness but that happiness should have come without me harassing anyone. No one should get hurt by me and I should get endless happiness. I witnessed in Uttarayan how people enjoyed when they got to cut the kites of others. I saw in Diwali people derived happiness at the cost of sleep of birds and animals."
But ever since this news emerged, opinions have been divided on whether to celebrate the move or slam it.
While some have hailed him as a "hero", many have gone so far as to call Varshil's move to attain sainthood at such a tender age an outcome of "radicalisation" and "religious brainwashing".
Oh common…give me a break. I have high regards for those who take Sanyaas, but this case looks more like a systematic brainwashing. https://t.co/er5jVbbLp3

— Yashwant Deshmukh (@YRDeshmukh) June 8, 2017
As a born Jain, I can confirm kids are indoctrinated and not given a chance to think freely.

— Rishabh (@me_consiglieri) June 8, 2017
I'm sorry, but this seems to me a classic case of structured religious brainwashing. I'd worry for the kid. https://t.co/W6WbtZ4DZh

— Nishtha Gautam (@TedhiLakeer) June 8, 2017
I am sorry, but I don't find it inspiring. Not at all: Boy with 99.9 % marks in 12th, decides to become a Jain monk https://t.co/VGrdE8nBkW

— Yashwant Deshmukh (@YRDeshmukh) June 8, 2017
But this is the sort of criticism that Jain scholars and saints are lashing out at. 
Jain monk Sagarchandra Maharaj from Gujarat told ScoopWhoop News that objecting to the minor status of Varshil is pointless as the "Indian constitution doesn't specify age for any sort of religious initiation".
"Our saints do not force children into monkhood. They give religious sermons to thousands of people everyday. Only a very few understand it and follow their path," he further said.
An exceptional case of grit & resolute will.Varshil shah a class12th topper 99.99percentile gave up every thing to be aJain Monk today.

— Gayatri. S. Rao (@GayatriSRao2) June 9, 2017
Dr. Bipin Doshi, a teacher of Jain philosophy at the University of Mumbai, also took on the criticism: "Indian philosophy believes in re-birth and re-incarnation. So why should we assume that Varshil has been 'brainwashed'? Impressions of past birth are always there. Maybe he was born with an inclination to spirituality."
Sagarchandra wondered why critics are considering 'sanyaas' as the end of life, purpose or even education. "The Jain monk I am sitting with right now became a 'sadhu' when he was 10. He went on to learn nine languages and is now pursuing his PhD from Mumbai University. Did monkhood stop him from learning?" he told ScooWhoop News over the phone.
Have you studied other Jain monk? All great monks have started at their teens. You called is brainwashing but its "internal awakening."

— vinamra chaware (@vinamrachaware) June 9, 2017
Here, Dr Doshi pointed out to what he termed as hypocrisy of the critics. "There are children who decide to become cricketers at a young age and that's considered normal. So what's so wrong in one deciding to become a monk? Varshil hasn't done anything anti-social," he said.
"They (critics) don't object to the trend of children taking to smoking and drinking at this age. But a child becoming a monk is problematic!" he said.
Doshi also countered allegations that the life of a Jain monk is way too austere. "Monks are free to do a lot of things like any normal person. The restrictions they face are mostly of diet and travel. They travel by foot and do not use a vehicle and eat a really simple meal. That's about it."
"I would say they live quite comfortably," he said.
Doshi concluded, "Such is the state of India today that a move that should be welcomed is being derided. Those who critiquing Varshil and his family clearly do not understand Indian tradition." 
Here's Varshil's full letter about his decision to take sanyaas: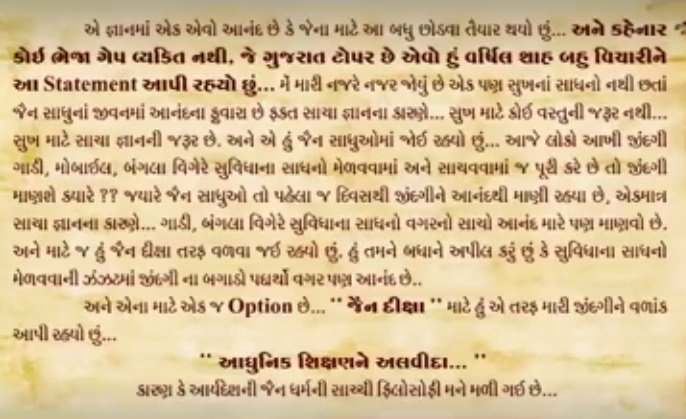 .