Curfew has been declared in many parts of Gujarat, and Army too has been deployed, after violence broke out late last night. The situation deteriorated after Hardik Patel, leader of the Patidar Anamat Andolan, was arrested for a brief interval from the Maha rally in Ahmedabad.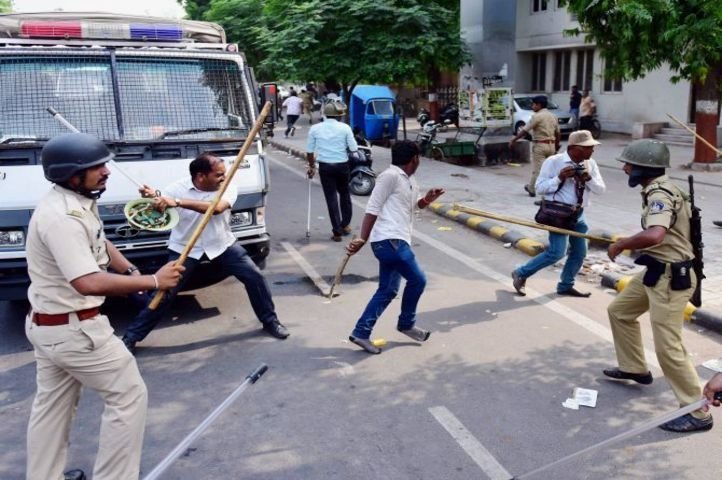 As the movement for demanding OBC status for the Patel community got violent, police swung into action in all cities and small towns. Reports of Police hooliganism are being reported from many cities on regional media.
Police personnel, visible in uniform are seen vandalising a residential society and smashing private vehicles parked in the compound, as captured on CCTV cameras.
In another video by local Gujarati channel Sandesh news, some police personnel along with some in civilian clothing are seen chasing people into a residential area and smashing windows.
A woman from a society in Ahmedabad says: "The police are entering houses and beating up people, smashed car windows, broke the furniture and even broke my hand. If the establishment treats us this way, where will we go. They are not protecting us, who will?"
Other women joined in with allegations like, "they (the police) broke locks and came inside our homes, beat women" and "the police have resorted to gundagardi "
While some sources are also reporting deaths of three to seven people in the violence, the situation remains tense, Authorities have asked people to stay safe, as Hardik Patel and his fellow leaders might be arrested again.
Read more: