With the launch of his television and digital news venture 'Republic' just days away, former Times Now editor-in-chief Arnab Goswami participated in a Q & A on Reddit India today where he invited users to ask him anything.
And they did, venturing yet again into no-go areas, expecting Goswami to answer questions like how does he claim independence when he is funded by a Rajya Sabha MP with NDA connections. 
Goswami dodged such questions, of course, perhaps because these are accusations he knows he can't provide a truly  satisfactory answer to. But that doesn't mean his brush with the Reddit users didn't have its moments. 
From his stand on the recent controversies involving a hassled CRPF jawan and a man tied to a jeep to how he will go after "left-liberals", Arnab did make some interesting statements.
When he justified a Kashmiri man being used as a human-shield
Human rights activists, the media and even some former Armymen may have slammed the act, but Arnab backs it. He said, "People have questioned why a Kashmiri was put in front of an army jeep. If that is the only way to stop an attack on our soldiers, I see no problem with it."

When he finally commented (however briefly) on why is he being funded by an NDA-linked MP-businessman – the investor is a "nationalist". 
(Have no doubts, the branding as "nationalists" and "anti-nationals" is only going to get stronger.)

For the nth time, he drives a Toyota Corolla and not Lamborghini. Wonder where's it coming from? Read on:
In 2015, when a picture of Goswami standing beside a swanky red Lamborghini (cost upwards of Rs 3 crore) went viral, his fans were thrown into a deep crisis: is the conscious-keeper of the nation a self-indulgent pompous man in real life? 
What car Arnab drives may actually not even matter, but media reports dug out of the truth: the expensive car wasn't his for Arnab drives a 2005 Corolla.
Two years later, he drives the same car. Here's what he told a curious user:

The "narrative" is going to change and the Left's hold will weaken, promises Arnab
Arnab lent his weight to the idea that the Leftists have had it too easy and too good in the national discourse and promised that he will "balance" out the narrative.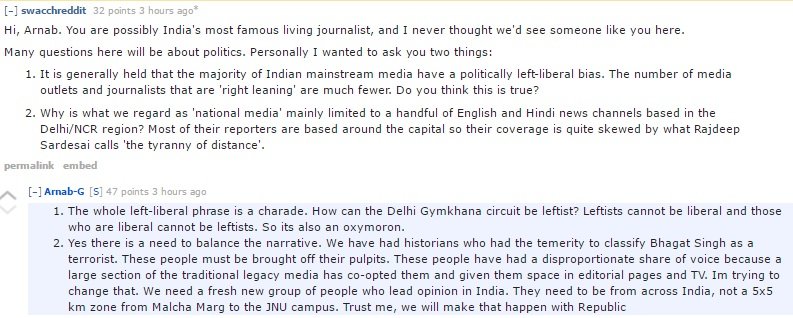 Okay, this one is only for 'Arnub' fans – his parody character on the hugely popular show on The Viral Fever, Barely Speaking With Arnub.