Power failure at the competition venue on Sunday led to the first leg of the Indian Grand Prix athletics meet ending in a farce in New Delhi. As many as three records and two Olympic qualifying efforts will now count for nothing.
The one-day meet, an Olympic qualifying event, was held without electricity at Jawaharlal Nehru Stadium which led to results being recorded manually. Hand timings are not considered valid for record purposes and hence will not be counted for Olympic qualifications.
According to the hand timings, as many as four national records were improved and that included two athletes crossing Rio Olympics qualification norms, but all of them will be of no use.
All the track events were hand-timed as the photo-finish equipment was not switched on due to power failure.
The organisers of the meet, Delhi Athletics Association blamed the Sports Authority of India and stadium administrator for the fiasco.
 Delhi Athletics Association official told PTI:
"We paid Sports Authority of India Rs 1.15 lakh to book the JLN Stadium and outside practice track area for the Indian GP and for Federation Cup (to be held from April 28-30). We also paid Rs 15,000 for security purposes. But to our surprise we found 15 minutes before the start of the meet that there is no electricity at the stadium.
"We contacted the SAI officials and stadium administrator and we were told that there was fire on the transformer and fire brigade was called. But we asked him about the back-up power supply and we could have paid for the cost of diesel to be used for the back-up power supply. It was a really sad situation for the athletes," the official said.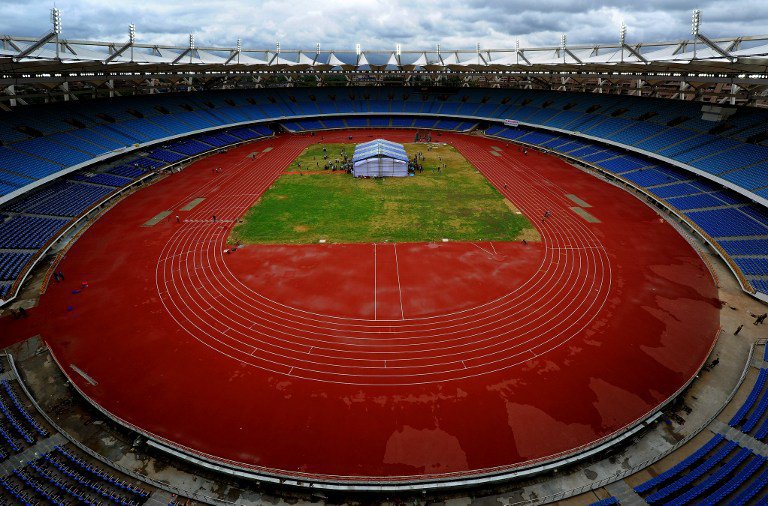 Athletics Federation of India washed off its hands on the debacle, saying that it was the responsibility of the state unit to ensure that everything was in order.
The meet was a season opener and was expected to serve as a platform for the Indian aspirants looking for a berth for the Rio Olympics.
Odisha sprinters Amiya Kumar Mallick and Srabani Nanda were credited with incredible hand-timings of 10.09secs and 11.23 secs to win the men's and women's 100m sprint races. The Rio qualifications norms are 10.16 secs and 11.32 secs.
But, these digital stop watch timings will not be considered for Rio qualification purposes and they cannot even be called national record holders.
To make things worse further there was no wind-gauge equipment in place in such an important competition.
Pre-meet favourite javelin thrower Neeraj Chopra was about three and a half metres short of the Rio norm as his best effort of the day measured only  9.54m.
Young Navjeet Kaur Dhillon (55.73m) scored an upset win over 2010 Commonwealth Games gold medalist Krishna Poonia (55.22m) in women's discus throw.
Similarly, the best Indian timings over 400m (45.41s by Muhammed Anas) and women's 3,000m (9:04.45 by Suriya Loganathan) also would not be counted due to lack of photo-finish recordings.
The second and final leg of the Indian GP series will be held at NIS Patiala on May 7.