PV Sindhu beat Japanese Nozomi Okuhara 21-19, 21-10 with another supreme performance to storm into the badminton women's singles final and assure India of a silver medal – their best performance in the sport at the Olympics so far.
Sindhu, who has been in ominous form, made short work of World No 6 Okuhara after a close first game, maintaining a brilliant record of beating higher-ranked opponents in Rio so far. She had beaten World No 8 Tai Tzu Ying and World No 2 Yihan Wang in the earlier rounds.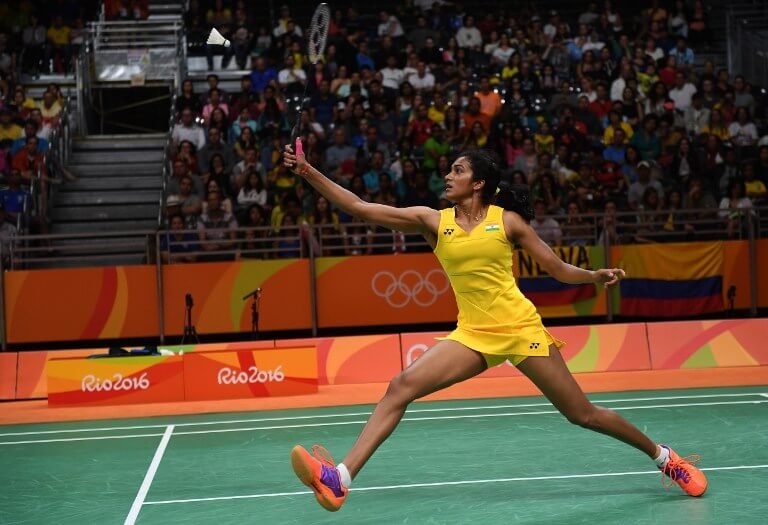 Controlling proceedings from the off, she gave up the lead just twice in a 51-minute match which saw the Indian execute everything to perfection. From drop shots to smashes, Sindhu had all corners covered.
Sindhu's achievement means she has already bettered Saina Nehwal's bronze medal effort four years earlier in London. Now only World No 1 Carolina Marin (Spain) stands in the way of the 21-year-old Hyderabadi becoming India's second individual gold medallist.
Sindhu had a 1-3 head-to-head record against Okuhara but all that went for a toss as the Indian came out with a well-thought strategy, engaging the Japanese in long-rallies with her angled returns and deft drops.
1st Game: 21-19
In the opening game which lasted 29 minutes, Sindhu opened up a 4-1 lead early on and rode on Okuhara's unforced errors to extend the advantage to 8-4. The Indian engaged her rival in long rallies and tried to vary the pace and finish them with well-executed drops.
A cross court forehand return after a long rally which consisted of 32 strokes helped Sindhu reach 9-6 before the Indian reached the interval with a 11-6 advantage after Okuhara hit long.
The Hyderabadi pushed the Japanese to the corners by playing half smashes and drops, while Okuhara continued to find the net trying to play the cross court drops from the baseline.
At 16-18, Sindhu failed to negotiate a body return but she again caught hold of the shuttle early using her height and sent it sailing out of the her opponent's reach. A missed net shot by Okuhara saw Sindhu reach game point, which she quickly wrapped up.
2nd Game: 21-10
Sindhu once again opened up a 3-0 lead but the Japanese soon clawed back and grabbed a slender 5-3 lead with the Indian finding it difficult to keep the shuttle inside the court.
The duo moved neck-and-neck from 5-5 to 8-8. A forecourt deception gave a point to Sindhu but she hit wide again.
Sindhu retrieved everything that was thrown at her but she rushed on to a stroke to hit the net. At the interval, Sindhu managed a slender 11-10 lead after her return landed at the corner of the court.
Sindhu came out all cylinders blazing after the change of sides and reeled off 11 straight points with the help of her array of strokes, which included some brilliant backhand flick and drops, to completely demolish the third seeded Japanese.
Feature image source: AFP