Dattu Bhokanal, 24-year-old Armyman, who hails from Maharashtra, made it through to the quarter-finals of the men's singles sculls in rowing after a third place finish in his heats, with an impressive time of 7:21:67.
His quarter-final event is now on Tuesday, 9 August starting at 1700 hrs.
After an early lead, Bhokanal was in second place for the first 500 metres of the race, before eventually dropping pace to finish third behind Cuba's Angel Fournier and Carlos Carbera.
The well built Cuban and the Mexican increased their lead from the rest but Bhokanal maintained his third position although he was more than 13 seconds behind the second placed Cabrera.
This is how he fared in the heats: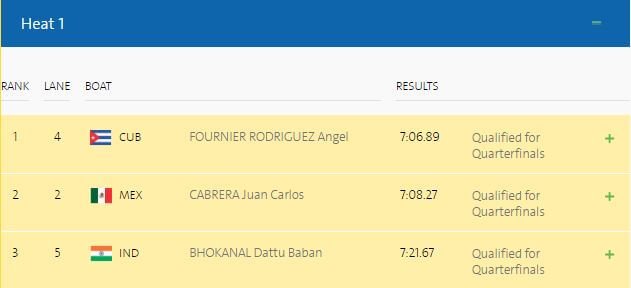 Dattu Bhokanal won the silver medal at the FISA Asian and Oceania Olympic qualification regatta after clocking 7:07.49 seconds in the 2km course.
Good luck for the quarter-final, Dattu!