The United States had their 92-year reign as Olympic rugby champions brought to a dramatic end when they lost 24-19 to Pacific power Fiji in the final pool match at the inaugural Olympic sevens tournament on Wednesday.
Winners of the last Olympic gold medal awarded in 15-man rugby at the 1924 Paris Games, the United States needed only to avoid defeat by a margin of five points or more to reach the quarter-finals and send sevens powerhouse New Zealand home.
The match fluctuated back and forth until NFL special teams player Nate Ebner rampaged down the touchline for a 40-metre try in the final minute, which give Madison Hughes the chance to add the extra points and keep the United States alive.
The American skipper screwed his conversion wide, however, and it was 12-times world sevens series champions New Zealand who moved into the last eight for a meeting with the Fijians, who have won the world series title for the last two years.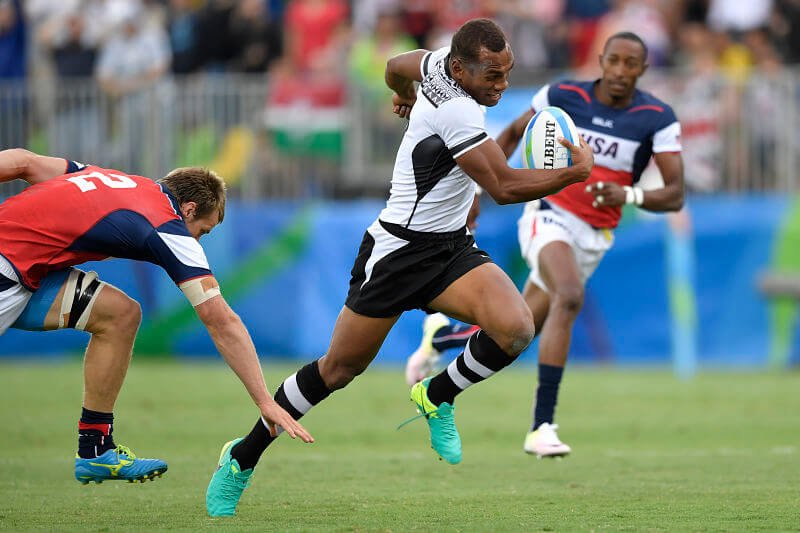 "They're the world champs for a reason," said crestfallen American Danny Barrett.
"What else can you say? All credit to them."
South Africa play Australia, Britain face Argentina and Japan will hope to continue their fairytale run against France in the other quarter-final matches later on Wednesday.
New Zealand were left banking on the Fijians after suffering a second defeat in two days at the Deodoro Stadium, going down 21-19 to Britain despite racking up 19 unanswered points in the second half.
Coming after their stunning loss to Japan on day one, during which they also lost Sonny Bill Williams and Joe Webber to injury, the defeat left the All Blacks teetering on the brink of an embarrassing exit.
The Japanese, ranked 10th of the 12 teams at the tournament and hosts of the next Olympics, picked up where they left off on Tuesday with a 31-7 thumping of world sevens series regulars Kenya to ensure they would be in the last eight.
Japan's outstanding Lomano Lemeki scored two tries, the first off a sublime sidestep, to lead the tournament with a total tally of four.
Australia, whose women's team won gold on Monday, kept alive their campaign after a lackluster start with a 12-5 victory over second seeds South Africa, who they will meet again in the semi-finals.
Argentina were again in impressive form in a physical all-South American clash against Brazil, running in five tries for a 31-0 victory.
Feature image source: Reuters