Robert Vadra, son-in-law of Congress president Sonia Gandhi, often finds his name dragged into the slug-fests between leaders from the BJP and Congress. Most recently, he was mentioned by AAP supremo and Delhi Chief Minister Arvind Kejriwal during his argument with the BJP in the Delhi Assembly.
This has now gone down well with Vadra and he has asked Delhi CM to speak to him directly rather than inciting people.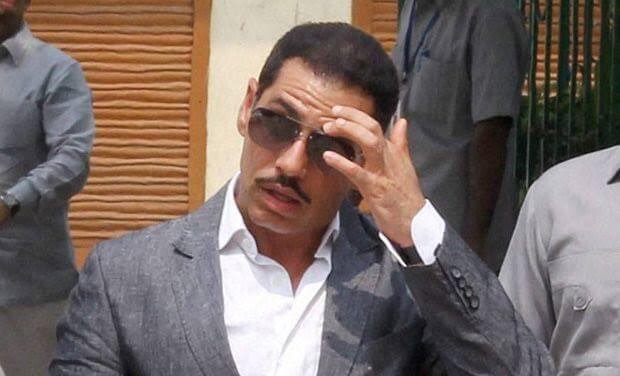 "Robert Vadra seems to be the most referred name in the dictionary of Delhi CM. His remarks 'Vadra will eat him alive' depict a strange obsession for me," he wrote in a Facebook post.
He further said, "I would humbly request our Delhi CM to come and speak with me directly, for all the grudges he has against me, instead of inciting other people against me. My best wishes to our Delhi CM, in all his endeavours." 
Here is his Facebook post: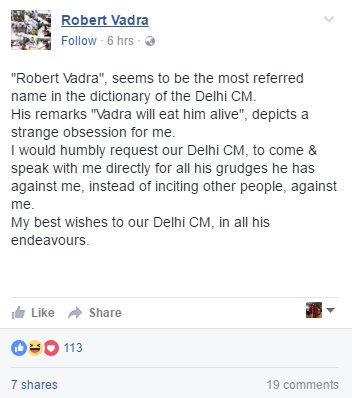 The post is in response to a statement made by Delhi Chief Minister during a debate in the Assembly on Tuesday.
"You can only arrest Satyendar Jain, not (Sheila) Dikshit. If the PM raises a finger against Robert Vadra, I'll be convinced he has a 56-inch chest…Vadra will eat him alive…He is taking revenge on the people of Delhi for choosing us, and has been blocking our work," Kejriwal had said, accusing the Narendra Modi-led Centre, reports NDTV.
Kejriwal has on previous occasions leveled accusations against Vadra for his controversial DLF land dealings in Haryana. In 2012, he had demanded a Supreme Court monitored SIT probe into the matter. 
(With inputs from PTI)
(Feature image source: PTI)