From the looks of it, Robert Vadra, son-in-law of Congress President Sonia Gandhi seems to be the new poster boy for the Congress party. 
Vadra prominently featured in the posters waved around by Congress workers in their "Save Democracy' march from Jantar Mantar to Parliament, reports India Today.
This rally was taken out in the midst of the AgustaWestland VVIP Chopper scam.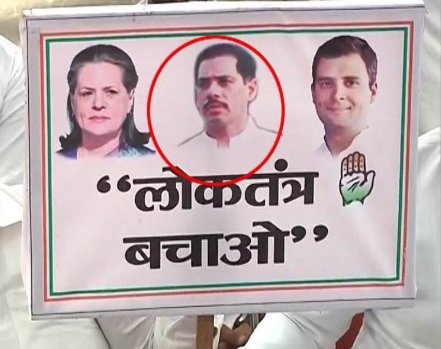 In that particular poster, Vadra's face took centre stage over Sonia and Congress Vice-President Rahul Gandhi, once again raising questions over the dearth of leadership in the 130-year-old party.
However, the party speaking to NDTV said, "The posters were put up without sanction by a Congress worker and Gandhi loyalist named Jagdish Sharma."
Vadra has always maintained that he is not a politician while the Gandhis have always shielded him by calling him a 'private citizen'. 
What does this poster signify then?
This poster row coming at a time when the Enforcement Directorate conducted raids in the Bikaner land scam case involving Robert Vadra. 
ED conducts raids in Bikaner land scam relating Robert Vadra, notice to be issued to Vadra's company soon.

— ANI (@ANI_news) May 6, 2016
Priyanka Gandhi's husband has always been a thorn in the flesh of the Congress party as he has been in several controversies causing much embarrassment to the party, the most damaging being the controversial land deals in Haryana and Rajasthan. 
The Congress party though has always stood by Vadra staunchly defending him. 
(Feature image source: Facebook)