For several days, the fate of roughly 300 desperate Rohingya and Bangladeshi migrants has been subject to a repetitive dance in waters just out of sight of gleaming Thai beach resorts.
Their boat, which those on board say has been at sea for up to three months, was found drifting last Thursday near Koh Lipe island, close to the Malaysian border, with parts of its engine missing. Thai sailors fixed the engine and handed the migrants food and water, before turning them back out to the Andaman Sea.
That was the beginning of what local Thai navy chief Lieutenant Commander Veerapong Nakprasit calls "a cycle", with the overcrowded fishing vessel bouncing between the waters of two countries determined not to take them in.
This rickety boat was just one of many that are at the centre of a regional crisis triggered by a flood of Bangladeshis and Rohingya Muslims from Myanmar.
Migrants have long made their way from the Bay of Bengal's southeast corner to Thailand, but a crackdown on traffickers by the Thai government disrupted the route and several thousand were left at sea with nowhere to go, though more than 2,000 have made it to the shores of Malaysia and Indonesia.
Thailand's foreign ministry said in a statement that it had informed the people on the boat found off Koh Lipe that they could come ashore for humanitarian assistance, but "they informed the Thai side that they wished to travel onwards".
Hunger, mounting tension
Piecing together what happened to the migrants after that is difficult to establish because of contradictory accounts from Thai officials and near-total silence from Malaysia.
As the Reuters team pulled alongside the migrants' boat, hundreds of rake-thin migrants could be seen huddling shoulder-to-shoulder on the deck, sheltering from the harsh sun with whatever they could find, including the torn-up boxes of food handed to them by the Thai navy earlier.
Men shouted from the boat, but could not be heard above the din of the engines. Women and children stared out and cried.
As Thai sailors yelled "Go away! Go, go!" at the journalists, the migrants' boat was released, and it again arced under its own power back towards Malaysia, where two Malaysian vessels were seen intercepting it.
The officer, who declined to be named, said the boat appeared to be under the control of two or three "agents" who insisted on going to Malaysia over objections from some passengers and had hoarded food and water provided by the military. The engine was found on Saturday with water in it, a possible sign it had been sabotaged, he said.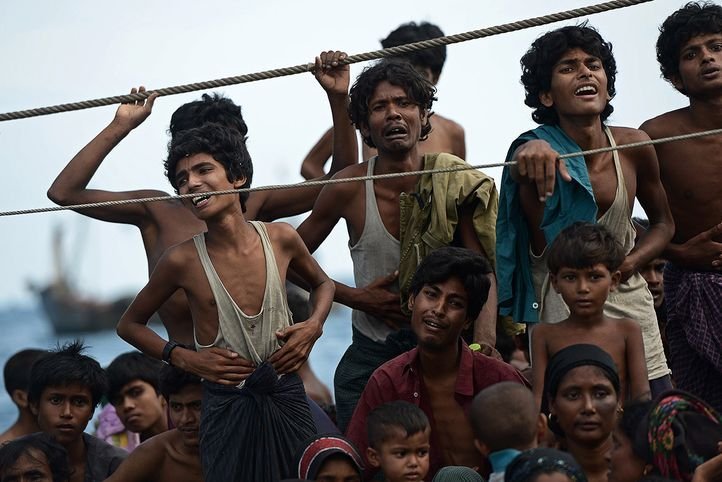 "The women and children are not getting fed," he said, adding that when the boat was first intercepted near Koh Lipe they had to force the agents to give them food.
"The first time they were intercepted, everyone wanted to go to Malaysia. Today some of them wanted to come to Thailand but the men ordered them back," he said.
Chris Lewa, head of the Arakan Project which tracks Rohingya migrant boats, said she had been told of mounting tensions on the boat that could break out into open conflict.
"They could even kill each other," she said.
Veerapong said that, as of Saturday night, the boat had been turned and was heading once again in the direction of Indonesia.