Dattatreya Hosabale's statement was like a breath of fresh air on Friday morning. His name even trended on Twitter after his statements on homosexuality. It brought hope. 
Had the RSS – the ultimate judge of all things linked Indian culture and nationalism, despite all previous statements by the organisation – understood that homosexuality shouldn't be criminalised and instead be accepted? 
Unfortunately no. It turned out, as usual, to be a false alarm. 
On Friday, the Joint General Secretary RSS official tweeted: 
Homosexuality is not a crime, but socially immoral act in our society. No need to punish, but to be treated as a psychological case.

— Dattatreya Hosabale (@DattaHosabale) March 18, 2016
Gay marriage is Institutionalization of homosexuality. It should be prohibited.

— Dattatreya Hosabale (@DattaHosabale) March 18, 2016
Remember, this is the same man who said this about homosexuality just a night earlier. 
"I don't think homosexuality should be considered a criminal offence as long as it does not affect the lives of others in society," he had said while speaking at the India Today Conclave on Thursday.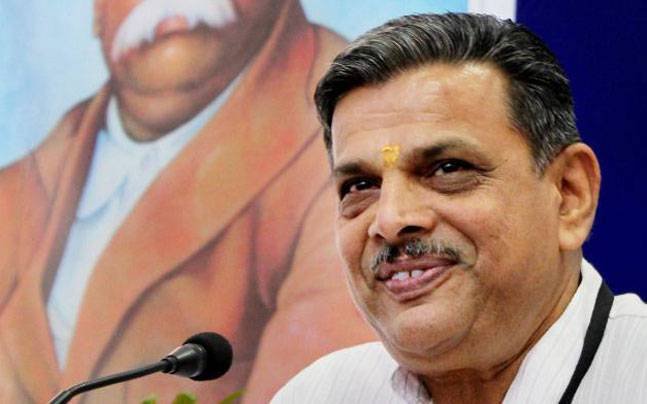 "Sexual preferences are private and personal. Why should RSS express its views in a public forum? RSS has no view on that. It is for people to have their way. Personal preference of sex is not discussed in RSS and we don't even want to discuss that," Hosabale said.
What happened between Thursday night and Friday morning that the senior RSS leader decided he needed to clarify just how evil he thought homosexuality still is? And how does he propose everyone in the LGBT community gets treated given they're all 'psychological cases'?
Unfortunately like with every organisation opposing the legalisation of homosexuality in the country, Hosabale evidently decided to play it safe. Why admit that the RSS could consider being more sensible in its stand on a subject that affects lakhs of people either due to criminal action or stigmatization? It's evidently just easier to indulge in doublespeak. 
So just in case you thought that the RSS was getting a modern outlook after getting rid of its knickers, think again.