BJP leader Sadhvi Prachi is not new to controversies. From addressing the Imams of Jamia Masjid as oxen, to demanding that all Hindu women must have at least four children, she has grabbed the headlines for all the wrong reasons.
While the BJP, her affiliate party, distances itself from her comments, she continues to make irresponsible statements designed to flare up communal tension.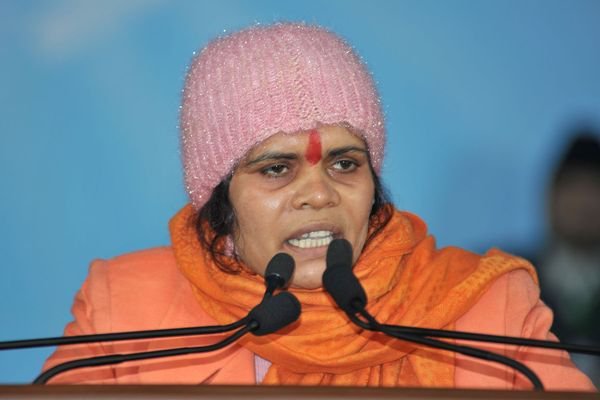 And now, it seems she has a problem with the Khans of Bollywood.
Recently, while delivering a speech at a public gathering, she urged the crowds to boycott films of Aamir, Shah Rukh and Salman as they apparently promote love jihad and she further asked her bajrangis to burn all the posters of Khans jinhone hamare ghar ke deewaron ko lapet rakha hai.
Watch how she stresses on 'Khan', just in case people miss who she is talking about.
The fact that they are global icons, adored by billions and followed by millions is just a minor detail, isn't it?
Earlier, there was an editorial in a Hindu Mahasabha magazine asking the Khans to convert if they loved their wives.
Drag religion into everything, please. Leave nothing out. After all, it's only in the Constitution that we are secular.