A sadhvi attending a conclave of various Hindu outfits here has said those who eat beef should be hanged in public, sparking a row amid the raging debate over cattle slaughter and consumption of beef.
The remark made by Sadhvi Saraswati last evening was condemned by the Congress, whose leaders demanded that the BJP-led government in Goa lodge an FIR over the "hate speech" and put her under arrest.
Saraswati, president of Sanatan Dharma Prachar Seva Samiti of Chhindwara in MP, also likened eating beef to "eating one's own mother."
"I would recommend the Government of India that those who consider it as a status symbol to eat the meat of one's own mother should be hanged in public. Then only people will realise that it is our duty to protect 'gau mata'," the sadhvi said during the inauguration of the All India Hindu Convention at Ramnathi village here.
She also exhorted the Hindus to keep arms at their homes to protect themselves.
"If we do not stock arms, we will be destroyed in future. Today Bharat is under attack from all directions. Efforts are being made to separate Kashmir from Bharat and also stop the Amarnath pilgrimage. Bharatmata-Gaumata are under attack she said.
Slamming the demand by some political parties to ban the right-wing outfits calling for the creation of the "Hindu rashtra", she said they should realise that no power in the country can prevent the Hindus from establishing the "Hindu Nation."
She also said "there is no such thing as saffron terrorism," adding that "saffron means dedicated life for the nation and dharma."
How did the opposition react?
Congress leader and Rajya Sabha member Shantaram Naik said he had raised Saraswati's speech at the meeting of the Consultative Committee of Home Affairs, presided over by Home Minister Rajnath Singh, held in New Delhi today.
Naik said Chief Minister Manohar Parrikar, who also holds the Home portfolio, should immediately take cognizance of the Sadhvi's statement and put her under arrest.
Otherwise it would be presumed that BJP, including its national leadership, is in agreement with her views, Naik said in a press note.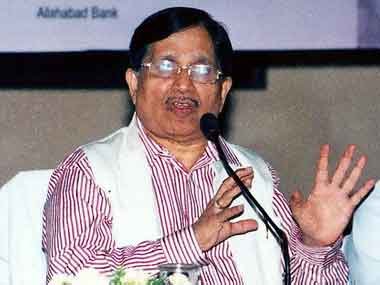 Reacting to the speeches made at the meet, All India Congress Committee secretary Girish Chodankar questioned the Manohar Parrikar-led state government's silence over them.
"Statements causing communal hatred are made during the convention. The state government has become a party to the entire programme by maintaining silence and allowing it to continue," Chodankar alleged.
He also questioned Goa Forward Party leader Vijai Sardesai's silence on the issue. Sardesai, whose party is now an ally of the ruling BJP, had in the past hit out at the VHP's claim that it would ban beef in the state.
He said the government should have taken cognisance of the sadhvi's comments on its own and filed an FIR against her for 'hate speech'.