Barely two days after election results were announced in Uttar Pradesh, reports of violence by members of the vanquished Samajwadi Party have surfaced in the media. 
The BJP swept the UP Polls this year with a huge margin, routing top contenders such as Akhilesh Yadav's Samajwadi Party and Mayawati's Bahujan Samajwadi Party with a total of 312 seats (total of 325 with the aid of its allies). However, news of the BJP victory did not go down well with some leaders of SP, who unleashed violence upon villagers who allegedly voted for BJP, as per reports.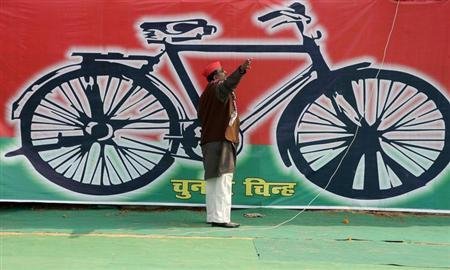 According a CNN News-18 report, violence broke out in eastern UP's Ballia district, where workers of SP burnt down houses of villagers, a majority of whom had voted for BJP. The report also added that SP workers savagely beat up a lot of villagers to avenge the SP loss. 
Police officials  intervened after news of the violence reached them and though conditions are under control now, several villagers have been severely injured in the violence. 
You can watch the video of the horrific incident here.
A strong police contingent has been deployed in the area to keep a check on things. 
Feature Image Source: Reuters (Representational Image)