Samsung launched two versions of its flagship phone, the flat screen Galaxy S7 and the curved screen Galaxy S7 edge, with cameras that can take better pictures under low-light conditions at the Mobile World Congress in Barcelona on Sunday.
The release date in India is still unknown — but here's a break down of the specs:
Operating system, RAM and processor: Both the phones come with Android Marshmallow and will have 4GB RAM. The inbuilt storage is 32GB, which is expandable up to 200GB (the microSD slot is back after it was removed in the S6). Both phones also have the same processor and will run on 2.15GHz quadcore (2.15GHz Dual + 1.6GHz Dual). Either Qualcomm's latest Snapdragon 820 SoC, with a quad-core Kryo CPU and Adreno 530 GPU OR Samsung's own octa-core Exynos 8890 SoC will be used, depending on which country you buy it from. The latter will be used for the international versions.
Camera, display and colours: Both phones feature a "Dual Pixel" 12-megapixel rear camera with optical image stabilisation (OIS). There's a 5MP front camera and fast f/1.7 aperture lens — so yes, in terms of low light pictures, this is quite an upgrade.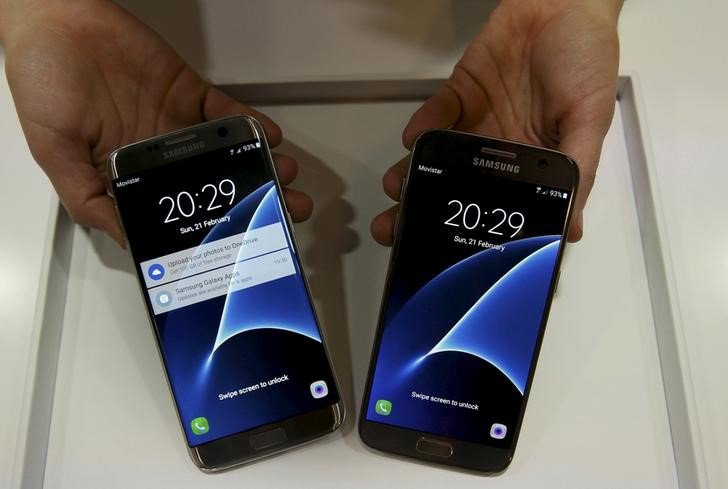 As for the screens, this is where the phones differ. The S7 Edge will sport a 5.5 inch screen (534ppi) with all the edge features. The S7 will have a 5.1 inch flat-screen (577ppi) – both come with a 2560×1440 resolution.
The S7 will be available in Black Onyx and Gold Platinum and the S7 Edge has a third choice – Silver Titanium.
Water and dust resistance: The phones boast an incredible IP68 dust and water resistance. This essentially means your phone is waterproof up to a depth of 1.5 metres for 30 minutes.
Software features: The Edge will be open for developers to make the most of — with a swipe from left to right opening up the right edge of the screen. Some apps also display in two columns and now feature a ruler, a compass and a torch. There's also the "always-on" lockscreen which displays the time and/or other visuals when the phone is locked – but doesn't drain the battery that much.
Then there's the added nugget for gamers – there's a gaming mode in the phone which will block notifications for seamless play and allows you to adjust screen resolution for prolonged play. The design of the phone also allows for faster cooling down.
Price: Rumoured to be between $700-800, which is around Rs 48,000-55,000.
Highlights
OS: Android 6.0 (Marshmallow) with TouchWiz
CPU: Snapdragon 820 processor/ Exynos 8890
Screen: S7- 5.1-inch 2560×1440 Super AMOLED (577 PPI) / S7 Edge – 5.5 2560×1440 Super AMOLED (534 PPI)
RAM: 4GB
Storage: 32GB + microSD up to 200GB
Camera: 12 megapixel rear camera (f1.7 and OIS)/ 5 megapixel front camera (f/1.7)
Battery: 3000 mAh / 3600mAh
Dimensions: S7 – 5.61 in (142.4mm) x 2.74 in (69.6mm) x 0.31 in (7.9mm) / S7 Edge – 5.94 in (150.9mm) x (2.86 in (72.6mm) x 0.30 in (7.7mm)
Weight: S7 – 5.94 oz (152g) / S7 Edge – 5.54 oz (157g)
Colors: Gold and Black (S7); additional silver option for the S7 Edge
Price and Availability: Unknown, probably $700ish and March 11.
Notable Extras: Water resistance (IP68), MST/NFC for mobile payments, Qi and PMA wireless charging, Always On display.
With inputs from Agencies
Feature image source: Reuters