Bollywood star Sanjay Dutt will finally walk free from the Yerwada jail near Pune on the morning of February 25. 
The 56-year-old actor, on whom investment worth crores of rupees was riding when he was convicted by the special TADA court in the 1993 Mumbai blasts case, will be carrying with him Rs 440 he earned during his jail stay.
Dutt worked as a semi-skilled worker in Yerawada Central Prison in Pune making paper bags and earned a salary of Rs 38,000 but will take home just Rs 440 as he has spent the rest of the amount on daily use items. Dutt was receiving the salary of a semi-skilled worker which is set at Rs 50 per day. 
The salary has been calculated after excluding 256 days of leave on parole and furlough granted by the Pune divisional commissioner and deputy inspector general (western region) of the prisons department on numerous occasions since 2013.
Among the various jobs the 'inmate number C-16656' did in the jail included playing a radio jockey for the in-house FM channel to entertain inmates and reduce stress levels.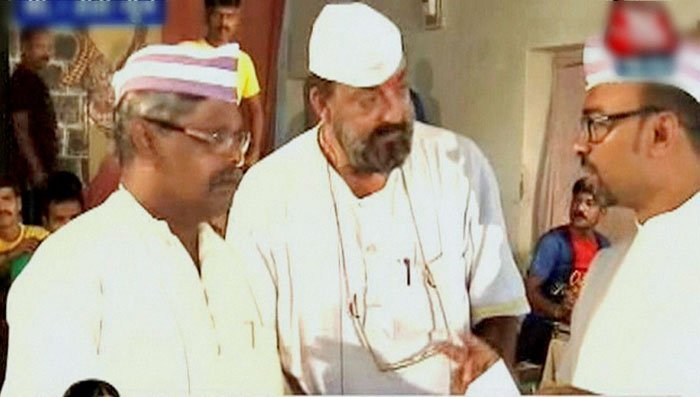 Dutt is also reported to be planning a film on a fellow jail inmate convicted in a family dispute case. Maharashtra Minister of State for Home Ram Shinde said the actor will be completing his jail term on February 25 after counting in the eight months and 16 days he earned as exemption or remission on account of good behaviour in prison.
 So the actor would have spent four years, three months and 14 days in the jail, though sentenced to five years by the Supreme Court. The Bollywood superstar was arrested on April 19, 1993, for possession and destruction of an AK-56 rifle, which was a part of cache of arms and explosives which landed in India prior to the serial blasts of March 1993. 
During the investigation and the marathon trial, he spent 18 months in jail. On July 31, 2007, the TADA court in Mumbai sentenced him to six years' rigorous imprisonment under the Arms Act and imposed a fine of Rs 25,000. 
In 2013, the Supreme Court upheld the ruling but reduced the sentence to five years. During his imprisonment, he was granted parole of 90 days in December 2013 and again for 30 days later.