She will always be remembered as the woman who turned down a bronze medal at the Incheon Asian Games.
Whether you agree with her stance or not, L. Sarita Devi definitely exposed the problematic officiating procedure at the Games.
Despite that, the International Boxing Association (AIBA) has taken the decision to provisionally suspend Devi and her coaches (Messrs Gurbakhsh Singh Sandhu, Blas Iglesias Fernandez and Sagar Mal Dhayal) as well as Indian Chef-de-Mission at Asiad, Adille J. Sumariwalla.
AIBA will also not allow any of them to participate at all levels of their competitions, events and meetings until further notice.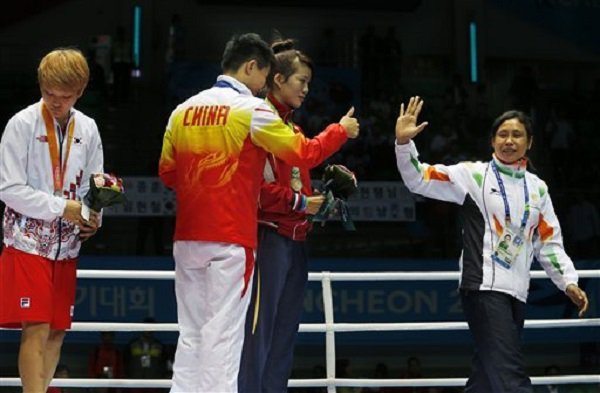 This also means that Devi will not be able to participate in the AIBA Women's World Boxing Championship to be held at Jeju Islands, Korea that starts on November 13 .
This comes as a shocker because Devi had sent in a written apology to AIBA after the incident.
Sarita Devi had expressed her anger after losing a silver medal despite having dominated Korean boxer Ji-Na Park in 60kg semifinals. Her medal was reinstated soon after her "unconditional apology".
Do you think this is the right decision?