Virender Sehwag is an absolute rockstar. 
Notice the use of 'is'? Because this is not a reference to the "see ball, hit ball" madness of his batting days. This is the post-retirement Sehwag who has owned the twittersphere with his daily dose of mostly witty, sometimes silly tweets.
But on Monday, a day after Dipa Karmakar made the nation proud with her 4th place finish in vault and the day Lalita Babar finished an impressive 10th in the Steeplechase final, he tweeted to Prime Minister Narendra Modi & Railway Minister Suresh Prabhu with an earnest request to honour these two brave young girls.
Now half-way through it, we were impressed. It started fascinatingly well, sounded heartfelt.
"Everybody likes saluting the rising sun," he starts off. "Though our champions at Rio have thus far not won any medal for their incredible efforts and skills, the way some of them have fought against all odds has been amazing."
This was really pleasing to see, coming from a star cricketer. With the clout he wields, anything he says would not at least fall on deaf ears. 
And then we went on to make it weird.
He requested PM Modi and Prabhu to name a plane and train after Dipa and Lalita. (Y'know, because Dipa 'flies' & Lalita 'runs' long distances.)
Here's the full statement: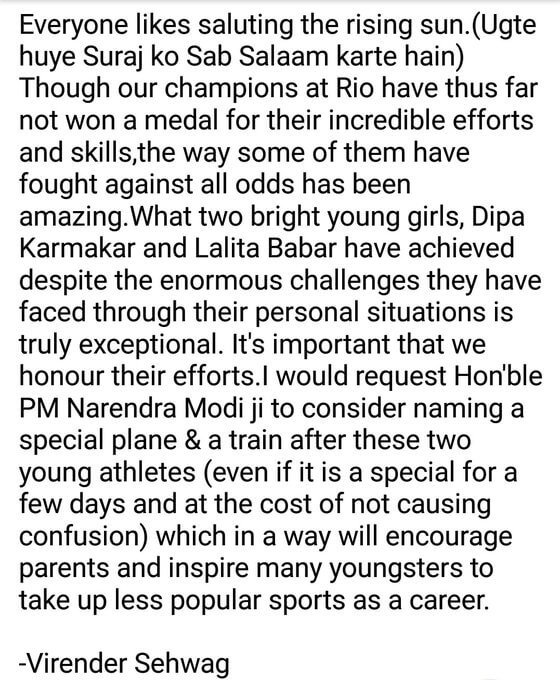 One of his fans said on twitter that this is a chance of getting people to know their names. 
Sportskeeda wrote that: If Sehwag's suggestion is followed, Dipa and Lalita's names will be made an intricate part of the public transport system, forever drilled into the nation's collective memory. Dipa and Lalita have been two of the people who have brought together 1.3 billion in a common cause, for however the shortest duration. To make their names into veins binding the Indian landform together would be the perfect tribute.
But really, we are not sure if naming a plane or train — and that too for a few days, "so as to avoid confusion" — will serve any purpose other than some short-term fame. If the nation really should be inspired by these two, they should return with more medals from their international competitions. 
Yes, we know his heart is in the right place. But if he is making a request to the PM — and chances are it will reach Mr. Modi — then why not make a request to help them with their sport? He is a sportsman after all. Shouldn't he know better?
Like we said, we are just confused.